Author 丨 City boundary Yang Kai
Edit|Old take
A $1 billion gamble can be described as brilliant.
Lei Jun, who played the mobile phone, launched the Xiaomi air conditioner; Dong Mingzhu, who is engaged in air conditioning, played Gree mobile phone.
At a time when the gambling is getting closer to the showdown, the two sides seem to have a new battlefield: On November 6, 2018, Lei Jun visited the headquarters of Weilai Automobile to discussnew energyAutomobile cooperation; 4 days ago, the first batch of new energy vehicles of Lanzhou Guangtong New Energy Automobile Co., Ltd. was put into operation in Lanzhou New Area, and the Lanzhou Guangtong New Energy Automobile Production Base of Zhuhai Yinlong New Energy, which Dong Mingzhu held, was laid.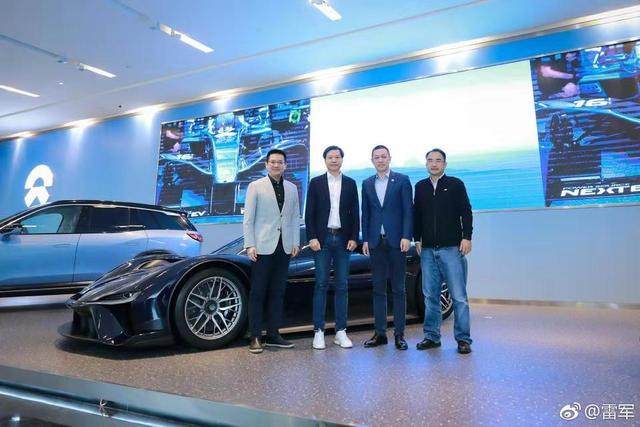 It seems that Lei Jun, who has a well-thought-out attitude, is very active. On November 6, Lei Jun visited the headquarters of Weilai Automobile and discussed the possibility of deep cooperation with Li Bin. Lei Jun reviewed the entrepreneurial story of Weilai Auto, saying that Shunwei Capital is the first institutional investor of Weilai Automobile. "In just four years, Weilai ES8 has been mass-produced and listed, and the company has successfully listed on the NYSE! Congratulations to Weilai, congratulations to Li Bin!" Li Bin expressed his gratitude to Lei Jun's micro-header.
According to public information, in November 2014, Li Bin co-founded Weilai Automobile with investors such as Liu Qiangdong, Li Xiang, Tencent, Gaochun Capital and Shunwei Capital. As one of the "co-founders", Lei Jun is also one of the first users of the Weilai Auto EP9 super sports car. The first batch of EP9 super sports cars was released in six batches, belonging to Li Bin, Li Xiang, Liu Qiangdong, Ma Huateng, Zhang Lei and Lei Jun.
Dong Mingzhu is also very optimistic about the field of new energy vehicles. December 2016,Gree ElectricChairman Dong Mingzhu and Wang Jianlin, Liu Qiangdong and other star entrepreneurs raised 3 billion yuan to invest in Yinlong New Energy. Among them, Dong Mingzhu personally invested 1 billion yuan and held 7.46% of the shares. After two degrees of increase, Dong Mingzhu was promoted to the second largest shareholder of Yinlong New Energy, holding 17.46%. In May 2017, Zhuhai Yinlong New Energy Lanzhou Guangtong New Energy Automobile Production Base was laid. The first batch of new energy vehicles in Lanzhou Guangtong was put into operation one year later.
Does Lei Jun's inspection of the Weilai Automobile Headquarters mean that the new energy vehicles will become the new battlefield of Lei Jun and Dong Mingzhu?
On December 12, 2013, at the "China Economics of the Year" Awards Ceremony, Dong Mingzhu, the winner of the Gree Electric Appliances, and Lei Jun, the founder of Xiaomi, set aside one billion gambling.
Lei Jun publicly stated, "Can the Xiaomi model overcome the Gree model? I think the next five years. Please let the people of the country testify. Within five years, if our turnover beats Gree, Dong Mingzhu Dong lost me a piece of money." Dong Mingzhu Immediately responded strongly: "First, (Millet exceeds Gree) is impossible, and second, I have to gamble that I bet you ten billion."
After setting aside 1 billion gambling games, the smell of gunpowder in the two people grew stronger and they reached out to each other's fields.
In January 2015, Dong Mingzhu released a slogan, "Geli is doing mobile phones and killing Xiaomi in minutes." In March of the same year, Dong Mingzhu suddenly announced that the Gree mobile phone had been made, "I am already using it." However, although Gree Mobile has Dong Mingzhu crazy to bring goods, but the Gree mobile phone that has been unremitting efforts and tried for three generations has always been difficult to enter the "big elegant", consumers never buy.
On the other hand, in 2015, Xiaomi and the United States jointly launched i Youth Air Conditioning, and jointly launched the geek air conditioner with Oaks, and the response was flat. In August 2017, the Zhimi full DC inverter air conditioner jointly developed by Xiaomi ecological chain enterprise Zhimi and Changhong was launched, but it was finally released due to "high price and low energy". Lei Jun "more and more brave", turned to low-end air conditioning. In July 2018, Xiaomi launched the rice home with a price of 1999 yuan.the Internetair conditioning. This product seems to be more suitable for value-for-money rice noodles, the market response is enthusiastic.
In 2013, when Lei Jun and Dong Mingzhu set a bet, the turnover of Xiaomi was only 30 billion yuan, while Gree was as high as 100.1 billion yuan. The two are almost impossible to speak. According to the data disclosed in the 2018 semi-annual report, in the first half of the year, Xiaomi's revenue was 79.6 billion yuan. Although the gap with Gree has shrunk significantly, it is still lower than Gree's revenue of 91 billion. However, Xiaomi continued to maintain strong growth, revenue growth of up to 75%, while Gree revenue growth of only 31%.
Do you think that Xiaomi can bend over at the last moment? Who are you more optimistic about?