Jufeng Today Strategy
Jufeng Investment believes that the Shanghai Composite Index has entered the chip-intensive area in early 2018 and needs to be repeatedly shocked before it can continue to rise. Recently, the main line of the market has gradually switched from the previous financial and technology to the performance wave speculation. During the period of the main fund transfer and stock exchange, the market will build a new box (3129-3288). Recently, strong second-tier blue-chip stocks such as brewery, medicine, home appliances and cement have collectively smashed, and the technical side has formed a "short-term head", but the market trend is improving. The market is expected to step back on the support near 3150. Overall, it is still oscillating at 3129-3288. In operation, investors are advised to stay away from short-term gains and continue to focus on bottom-performing stocks.
international market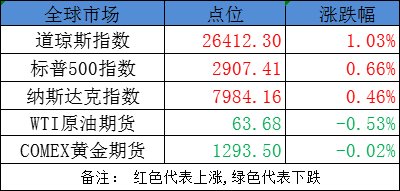 On the Eastern US time last Friday, the major European stock indexes closed up slightly. Affected by the general bank stocks, the three major stock indexes of the US stock market closed higher, the Dow rose nearly 270 points, an increase of more than 1%;S&P 500For the first time in six months, the index broke through the 2,900-point mark. Last week, the S&P 500 index rose 0.51%, the Dow lost 0.05%, and the Nasdaq gained 0.57%.
News Express
1. Chen Yulu, deputy governor of the central bank: China's stock market is showing signs of bottoming out and recovery.
2. Liu Kun, Minister of Finance, said: China will continue to greatly relax market access and increase protection of intellectual property rights.
3. MSCI postponed the conversion of the two China indices, and the A-share inclusion factor boosted the rhythm.
4. The fourth batch of pension fund was officially approved.
5. At present, the experience of a new batch of reform pilots in China's Pilot Free Trade Zone has been sorted out and will be released in due course.
Announcement list
1. Love more(002761): Zhejiang Construction Group, a subsidiary of the State-owned Assets Supervision and Administration Commission of Zhejiang Province, intends to acquire 29.83% of the company;
2. Phoenix-shaped shares(002760): The Tellhow Group intends to acquire 8.09% of the company;
3.Successfully(000606): Chairman Peng Cong and its related parties intend to increase the holding amount by 100 million to 200 million yuan;
4.Lifan shares(601777): The subsidiary company and Wuhan Taige and other strategic cooperation in the field of hydrogen energy;
5.Jilin Forest Industry(600189): The controlling shareholder and Gome Holdings signed a strategic cooperation framework agreement;
6.Berry gene(000710): First quarter net profit increased by 147%-170%;
7.China Communications Construction(601800): The total contract value of the Malaysia East Coast Railway Project will be adjusted to Malaysian Malaysia Airlines by 44 billion;
8. Gujiajiao(603816): Proposed acquisitionXilinmenThe expiration of the equity event is automatically terminated;
9. Huasheng Tiancheng(600410): First quarter net profit increased by 914%-1020%;
10.Shenzhen Energy(000027): The net profit in the first quarter was pre-increased by 4-6 times.
Hot nugget
The first hydrogen energy coupe is about to debut, which is expected to push the hydrogen energy vehicle application a big step
The new model of the first high-end sports car designed by Grove Hydrogen and Pininfarina will be launched at the Shanghai International Auto Show on April 17th. Grove's first new car is a hydrogen fuel cell passenger car that can be hydrogenated in a few minutes, with a battery life of more than 1000km. China's fuel cell industry is still in its early stages, and commercial vehicles are pioneers in large-scale applications. After the launch of Granny, the first mass-produced hydrogen-powered passenger car, it is expected to take a big step forward in hydrogen-powered automotive applications.
Related targets:
Kailong shares(002783) The Junfeng Huasheng Investment Partnership invested in Grove Hydrogen Automotive.
Snowman shares(002639) and tomorrow, hydrogen energy can achieve strategic cooperation in the field of hydrogen fuel cell technology and industrialization.
Nitroglycerin is out of stock in large areas. Pharmacies have nearly ten times the price increase.
In the major pharmacies in Zhengzhou City, nitroglycerin was out of stock in large areas, and the price has increased nearly ten times. Nitroglycerin is a commonly used drug in patients with coronary heart disease and angina pectoris. It can directly relax vascular smooth muscle, especially small vascular smooth muscle, and it is contained under the tongue. It takes two to three minutes to function. It is not only cheap, but also called heart because of its quick effect. "Life-saving drugs" for patients with vascular disease. The raw material of nitroglycerin tablets is nitroglycerin, and the raw material of nitroglycerin is nitric acid, which is strictly controlled. The main reason for the price increase of nitroglycerin tablets is the rise in raw materials.
Related targets:
Zhendong Pharmaceutical(300158) Nitroglycerin tablets are the main products of the company's subsidiary, Ante Bio.
Zhongsheng Pharmaceutical(002317) has nitroglycerin tablets.
Individual stocks concern
Songzhi shares(002454)
At the Shanghai International Auto Show in 2019, Huawei will make its debut as Tier1. This auto show will bring related products in the field of car networking and autopilot. After several years of development, Huawei has enteredsmart carSupply chain, become a competitive technical service and hardware supplier. Songzhi shares are dedicated to event concept stocks, and there is still room for further upside in the short term.
Yanhua Intelligent(002178)
The company's main building intelligent project, public safety prevention engineering design, construction, maintenance computer network system integration, system equipment procurement, engineering construction, integration commissioning, project management and operation and maintenance value-added services. RecentYangtze River DeltaThe concept stocks are changing, and the company is also expected to benefit from the development of the Yangtze River Delta integration.
Today's trading tips
Purchase
no
Resumption of trading
Yan Tianhua (000912),China Microelectronics(600360)
Suspension
New Continent A(000571)
Source: Jufeng Investment
Author: Zhang Xu practicing certificate: A0680617100004
Disclaimer: The above contents are for reference only and do not constitute specific operational recommendations. According to this operation, the operation is at your own risk and at your own risk.