Published in 2017-10-18 19:04:26 shares it online version
                        A shares of the lowest price shares * ST Hai Run frequency is now single-handedly pay up 5% to return to this
Source: Securities Times Network Editor: Oriental wealth network
The highest price of Guizhou Maotai frequently a record high popularity is also very high. And the lowest price and stagnant this year * ST hailun, popularity seems to be not bad, today's turnover rate is still 0.83%, nearly 3200 A shares ranked No. 2000 or so, far more than Guizhou Maotai Turnover rate. Interestingly, from the market software in each transaction point of view, * ST hailun from time to time there will be a single pay. According to statistics, today there are more than 110 pen on hand a single hand pay. Do these buy investors do not know to buy a hand * ST hailun, to rise nearly 5% to return to this?

First to calculate the latest closing price of 1.44 yuan to buy a hand * ST hailun cost. (Brokerage fee of less than 5 yuan by 5 yuan charge), 1 yuan transfer fee (Shanghai stock to pay, Shenzhen stock exemption), stamp duty (when the sale of unilateral levy 1 ‰, regardless of holding time). Do not consider other costs in the case of cumulative transaction costs more than 6 yuan. As the stock's latest closing price of 1.44 yuan, 1 hand turnover rose to 1.5 yuan is still a small loss, only rose to 1.51 yuan (up 4.86%) to a small profit. This means that investors buy at the current price of a hand * ST hailun, to rise nearly 5% to slightly earned.
Buy a hand ultra-low-cost stocks, the cost is very high; with the corresponding, to buy high-priced stocks, the lower the cost.
Guizhou Maotai, for example, according to the latest closing price of 560.72 yuan to buy a hand, a total of 56072 yuan, roughly required brokerage commission 17 yuan (brokerage commission calculated by 0.3 ‰), 1 yuan transfer fees, stamp duty (ibid.). Do not consider other costs of the case, the cumulative transaction costs of about 74 yuan. In other words, at the present price to buy a hand Maotai, just up about one thousandth of a third can be back to this.
Similarly, buy other low-priced stocks, such as * ST sharp electricity, and state biological, Shandong Iron and steel stocks, also need a higher cost. Buy other high-priced stocks, such as Changchun high-tech, Yanghe shares, the cost is relatively low.
On the one hand due to A-share investor structure reasons, resulting in a lot of people simply can not afford to work in Guizhou Maotai; the other hand, A-share market investment preferences may also lead to a low price oversold * ST Hailun relatively high hands.
But the factors that affect the turnover In addition to stock prices, the market value is also a very important factor, especially in the A-share market. In general, in other conditions almost the same, the larger the market value of the stock, turnover will be relatively low. For example, the same low-priced stocks, the Agricultural Bank this year, the average daily turnover rate is very low, only 0.07%.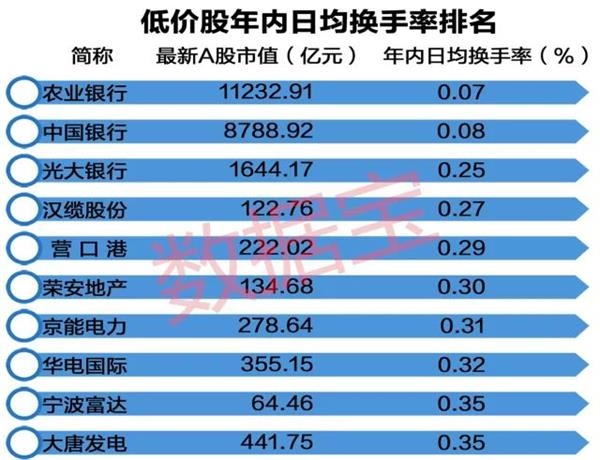 In the 5 yuan below the daily average turnover of low-priced stocks list, the market value of only 6 billion early in Ningbo Fidelity, be a special case, the stock daily average turnover rate of only 0.3456%. Similar to the stock, that is listed within two years of new shares, the latest A-share market value of 10 billion yuan, the latest share price of 5 yuan, the average daily turnover of less than 1% of the stock, there are 39. Among them, Shun Fat Sunny to 0.3545% of the average daily turnover rate ranked second, Wenfeng shares to 0.4082% ranked third. In addition, Haiyin shares, Huadian energy, Chengdu, Sichuan and other five shares turnover rate of less than 0.5%.
This kind of stock market performance is also mostly bad, 40 stocks only Jinzhou Hong Kong stock a year during the stock price rise, Hengtian Dragon, Huatian Hotel, Zhejiang Guangsha and other stocks is more than 30% drop. However, these stocks are not all the performance of stocks or high valuation of the stock. For example, Sichuan and Chongqing, the latest dynamic price-earnings ratio is only 12.07 times, Shun Fat Sunny, Huayuan real estate, Longjiang traffic and other stocks are less than 20 times earnings.
                Tip: the user published in the community all the information, statements, etc. only represent the personal point of view, and this site has nothing to do, do not constitute any investment advice to you. Users should be based on their own independent judgments, to determine their own securities investment and bear the corresponding risks.
"Thread review self-discipline management commitment"