Posted on 2017-10-16 09:28:32 Share it on the web version
                        Kweichow Moutai has a record high value of 700 billion yuan
Source: Oriental Wealth
Guizhou Maotai opened slightly higher today by 0.7%, the share price hit a record high, with a total market value of over 700 billion yuan. At the close, Kweichow Moutai rose 0.82% to 560.69 yuan, with a market value of 704.3 billion yuan.
  Extended reading >>>
  Some analysts also mentioned that the target price was 670 yuan. Maotai's stock price is not expensive.

Youdao math problem:
Two or three years ago, the sale of 5 shares ~ 6 Kweichow Moutai shares, the funds can buy a bottle of flying Maotai;
Now, only the sale of 2 shares to 3 shares of Kweichow Moutai shares will result in the purchase of a bottle of flying Maotai wine.
During this period, Maotai's price and Maotai's stock price are all increasing. Is it because Moutai's price has risen more than that of Maotai's stock price?
For A shares, the answer is usually not as normal as you think.
Maotai's stock price continued to maintain its relative strength, with a slight drop of 0.27% on the 12th and an intraday high of 551.25 yuan on the 11th.
3 Moutai stocks can buy a bottle of Moutai A Kweichow Moutai can buy almost all listed liquor companies
The price of Maotai is getting more and more expensive, and the stock price of Moutai is not much to give.
On October 12, Kweichow Moutai shares touched 551.25 yuan in intraday trading, and once again set a new record high. This is the first time Moutai's stock price has exceeded the 550 yuan mark.
If the current 53-degree flight Maotai 1299 yuan / bottle terminal price to count, the current buy 2 shares ~ 3 shares of Guizhou Moutai Fund is basically a bottle of Moutai price.
Since the recovery of the liquor industry, both the terminal price of Maotai and the share price of Maotai have generally risen. However, the price of Moutai seems to have risen faster.
At the beginning of 2014, Kweichow Moutai's share price hit a multi-year low of 118.01 yuan. After that, it continued to show an upward trend. After the stock market disaster was adjusted, it quickly resumed its upward trend. If it takes into account the weight of interest, it will be the lowest since 2014. The increase was more than 500%, which was the second highest in the Shenwan white spirit industry than Shuijingfang. The increase in the price of Moutai during the same period was obviously far less than the stock price increase.
According to public information, during the long period from 2014 to 2015, ordinary flying maotai was not "expensive." For this reason, the Maotai sales company once implemented a price protection strategy and requested Feitian Maotai's wholesale price to be no less than RMB 850. Terminal sales The price is over a thousand dollars. At that time, the stock price of Kweichow Moutai was less than 200 yuan most of the time. Even if the stock price was calculated at 200 yuan, at least 5 shares to 6 Kweichow Moutai shares would be sold, so that the funds could be used to "buy" a bottle of ordinary Maotai.
3 shares can buy a bottle of 53 degrees flying Maotai and there are leftovers, if viewed from the market value, Kweichow Moutai almost can buy the entire liquor section.
As of the close of October 12th, the total market value of Kweichow Moutai was 683.485 billion yuan, ranking eighth, with the market value exceeding traditional heavyweight shares such as Sinopec, China Shenhua, China CRRC, and SAIC, and even exceeding large banks. Including China Merchants Bank, Bank of Communications, Shanghai Pudong Development Bank and Industrial Bank.
On the whole, the data shows that the total market value of A-shares is approximately 57.58 trillion yuan, and the market value of Kweichow Moutai's 6834.85 billion accounts for approximately 1.19% of the A-share market. Kweichow Moutai is already an ultra-heavyweight stock in the A-share market. The market-to-market ratio may not be enough, and it may be better to compare the companies.
According to the latest closing data, the total market value of the remaining 17 listed liquor companies after the removal of Kweichow Moutai in the Shenwan Baizi sub-sector was 716.459 billion yuan, which was only higher than the total market value of Kweichow Moutai of 32.984 billion yuan. In other words, the sale of Kweichow Maotai can almost buy the entire liquor section.
The stock price continues to innovate Gao Maotai's "wine shortage" problem to be solved
Corresponding to the record high stock prices, Maotai is in short supply.
Taking 53 degree flying maotai as an example, it is understood that the ex-factory price of this wine is 819 yuan/bottle this year. In March this year, the market price of this wine was as high as 1,670 yuan per bottle, which is a difference of as much as 800 yuan / bottle. In order to stabilize the price of alcohol, on May 3 this year, Kweichow Moutai Group launched the "Official Guided Retail Price of 1299 yuan / bottle."
In order to break the price increase forecast, Kweichow Moutai continued to increase its supply. Among them, in order to meet the demand for the peak season, Maotai has also continuously adjusted the volume of the Mid-Autumn National Day, which has gradually increased from 2,000 tons to 6,200 tons, which is twice the number of the same period last year.
Although prices have stabilized, the long-standing "wine shortage" has not been resolved. In March of this year, Maotai General Manager Li Baofang frankly stated that in the first half of this year, Moutai that could be put on the market to tune 53 degrees was about 6,500 tons, which could only meet the market demand of 20% to 25%. In the second half of this year, the market demand that can be met is only about 50%.
The reporter found that the main e-commerce website found that the current official price of 53-degree flying Maotai is 1,299 yuan, but it needs to be purchased. In physical stores, they are generally out of stock.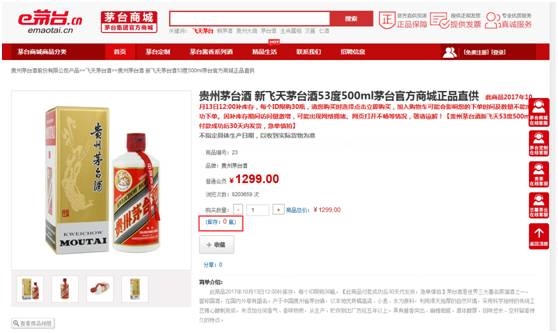 According to the latest data from the Kweichow Moutai official mall, the 53-degree flying Maotai inventory is currently 0. In addition, the mall also prompts that the product will be restocked at 12:00 on October 13, 2017, and 30 bottles will be purchased for each ID. Shipments will be shipped within 30 days after payment is made.
Thanks to the strong market demand, the data of Guizhou Maotai semi-annual report shows that in the first half of this year, the company produced a total of 42198.18 tons of Maotai wine and a series of liquor-based liquor; its operating income was 24.19 billion yuan, an increase of 33.11%; and its operating profit was 16.124 billion yuan. , an increase of 26.36% year-on-year; net profit attributable to owners of the parent company was 11.251 billion yuan, a year-on-year increase of 27.81%.
In addition, Moutai Maotai Co., Ltd., a subsidiary of Guizhou Maotai, recently completed a sales task of RMB 4.3 billion for 100 days in advance. According to statistics, as of September 19, Maotai Soy Sauce Company achieved sales revenue of 4.306 billion yuan, an increase of 226% year-on-year; completed sales of 20.35 million tons, a year-on-year increase of 153%, and a mission completion rate of 78%. Among them, Maotai Wangjiu finished sales of 7,375 tons and realized sales of 1,556 million yuan.
China Merchants Securities pointed out that the company announced earlier that during the Double Mid-Autumn National Day period, it will have a planned capacity of 6,200 tons, plus nearly 3,000 tons of shipments in the middle of July-August. It is expected that the actual shipments in the third quarter will be over 8,500 tons, up from 5,800 last year. Ton shipments, an increase of over 40%. In addition, taking into account the increase in ton price, the growth of serial wines, and the financial company's business contribution, it is expected that the growth rate of Q3 revenue performance is expected to reach 40%-50%, and the annual growth rate will also be adjusted upwards, exceeding market expectations.
Just now! Some brokers have raised Maotai's target price by 110 yuan!
For Maotai's rising share price, the market has been very different.
Chairman of Shenzhen Dongfang Bay Investment Management Co., Ltd. Dan Bin recently issued several microblogs and repeatedly mentioned Maotai stocks. He said in microblogging at noon today, "When the new wealth first shouts a high of 640 yuan, you dare. Dare to buy maotai?"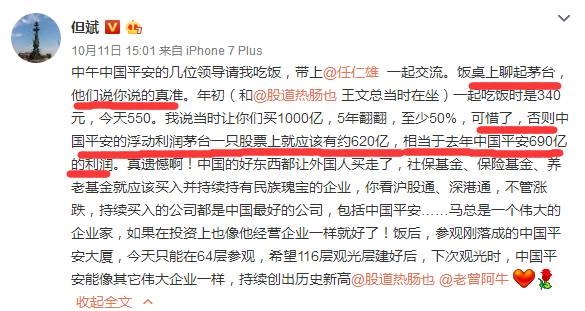 It is worth noting that in May of this year, some netizens posted comments on Maotai in Weibo. Liang Rui'an, general manager of Shanghai Shunjun Asset Management Center, said that if less than 600 yuan/share at the end of 2018, donate 50 yuan. Million to the charity, but Bin said in the microblogging, "I would be willing to bet 10 million, 100 million is also OK! To contribute to charity!"
In less than half a year's time, Maotai's stock price rose by more than one hundred yuan from the time when the bet was made, and the share price from 600 yuan was only one daily limit, but Bin might be able to steal a smile.
Brokerage research institutions recently expressed their optimistic attitude toward the stock price of Maotai.
China Merchants Securities Research reported that it even raised its expected earnings per share for 2017 and 2018, and raised its target price to 640 yuan.
On the 12th, Guotai Junan raised the target price of Maotai from the previous 560 yuan to 670 yuan, a full increase of 110 yuan, said that compared to 2009 to 2012, the market rose, from the transaction level that the current round of rising stock maotai microstructure Good, stocks continue to rise.
  Related reports>>>
  2017 Maotai Liquor Production 42,800 Tons Target 36,100 Tons Next Year

  Stock Market Analysis >>>
  Where is the ceiling of the white horse stock? "Maotai" can not buy?

  Kweichow Moutai hit a record high for the 45th time this year
                Tip: All the information, speeches, etc. posted by the user in the community only represent personal opinions and have nothing to do with the position of this website. It does not constitute any investment advice for you. Users should make their own decisions on securities investment and take corresponding risks based on their own independent judgment.
Self-discipline Management Commitment in Follow-up Comments