Published on 2017-10-19 09:00:32 Share it web version
                        Black commodity futures closed down, coke closed down nearly 7%
Source: Eastern Fortune Network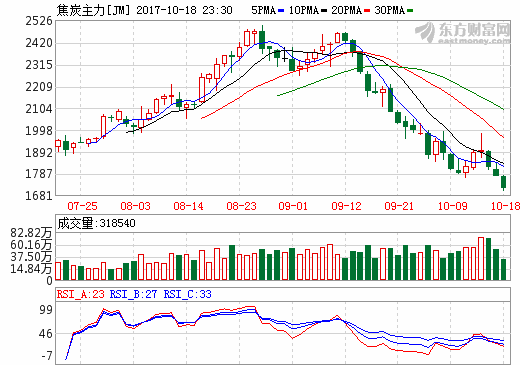 Black futures closed down sharply, coke closed down nearly 7%, coking coal fell 6.4%, iron ore, rebar, hot coil fell more than 3%, Zheng coal fell nearly 2%.
  [Extended reading]

  China's supply-side reform boosts global demand Commodity reproduces China's moment

According to the latest data released by the General Administration of Customs, in the first three quarters, China's bulk commodities increased in volume. Among them, iron ore, crude oil and soybean imports increased significantly.
Analysts believe that behind the increase in imports of bulk commodities, mainly due to the improvement of China's real economy, China's supply-side reforms and other measures have boosted the overall demand of the international market. In addition, in the first three quarters, China's import and export trade along the "Belt and Road" countries increased by 20.1%, higher than the growth rate of China's foreign trade during the same period. In the context of improving supply and demand, commodities ushered in a sharp rebound after June. How long will the above factors support the support of commodities?
China's supply-side reform boosts global demand
According to data released by the General Administration of Customs, in the first three quarters of this year, the import prices of bulk commodities such as iron ore, crude oil and natural gas in China increased. Among them, imported natural gas increased by 22.3%, iron ore increased by 7.1%, crude oil increased by 12.2%, soybean increased by 15.5%, and refined oil increased by 4.2%. In addition, China's import prices have generally increased by 10.6%.
Huang Yuping, spokesman of the General Administration of Customs, said that the rise in commodity prices has contributed to China's import growth, and the improvement of China's real economy has also boosted import growth.
This year's commodity bull market seems to have met with the booming import and export situation.
As early as 2002 to 2012, the commodity market had a big bull market for ten years. At that time, in the international commodity market, the phenomenon of "China time" and "China price" was remarkable. Since 2016, commodities have already emerged from two waves of obvious rebounds. Behind this "commodity cattle", the Chinese factor affects geometry?
In September, for example, the data showed that China's total import and export volume (RMB) increased by 13.6% year-on-year in September, a record high since July 2017. Among them, exports increased by 9% and imports increased by 19.5%. In terms of price, the average price of imported iron ore in September was US$70.3/ton, up 6.4 US dollars from the previous month and up 10% from the previous month. The average price of imported crude oil was US$367.5/ton, a sharp increase of US$21.3 from the previous month. .
Monita Zhong Zhengsheng, Zhang Wei and Yan Li believe that China's import and export growth rate has both rebounded, but the import rebound rate is significantly greater than that of exports, or indicates that the overall economic demand is still stable. In addition, the "import substitution" caused by environmental protection and supply-side reforms has also led to a significant increase in the import volume of major commodities such as iron ore, steel and copper.
"On the export side, exports have been hovering at the end of the season, but the range is not as good as market expectations. This is mainly due to the export of labor-intensive products, which is precisely the constraint of environmentally controlled production on export supply. On the import side, China's import frequency over the market this year. It is expected that this indicates that China's supply-side management is providing demand for the world." Xingye Research Jiang Dongying and Li Miaoxian pointed out.
Taking iron ore as an example, imported iron ore in September exceeded 100 million tons for the first time, reaching 103 million tons, the highest monthly record since the import of iron ore. Wei Wei, an analyst at Ping An Securities, believes that domestic winter environmental protection and production restrictions have led domestic enterprises, especially those in the limited production area, to increase their demand for high-grade overseas ore.
It is understood that most of China's domestic iron ore resources are lower, but the cost is higher than foreign countries.
"In recent years, the domestic blast furnace has become larger and larger, and the demand for iron ore in the blast furnace has become more refined. Therefore, the demand for high-grade imported ore has increased greatly. September is the last empty period before the environmental protection and production restriction measures are put into place, and the steel enterprises will advance. More stocks to respond to the willingness to limit production and environmental protection. A large number of imports also led to an increase in the price of imported ore in September. The average price of imported mines in September was 70.29 US dollars / ton, an increase of 6.4 US dollars / ton from the previous month." Wei Wei said that the latter is expected Imports of iron ore in a single month will fall back, but overall demand will remain high.
Chen Yong, an analyst at Lianxun Securities, pointed out that since the second half of last year, the global economy has continued to recover, especially the simultaneous economic growth in Europe and the United States, which has led to a marked improvement in China's export situation. This trend continues.
Commodity reproduction "China moment"
The world is hot and cold. From the perspective of varieties, the focus of this round of supply-side reform and environmental protection and production restrictions, steel, coal, and non-ferrous metals are the "leaders" of this round of commodity rebound. The Chinese market has become the most prominent factor in the pricing influence of commodities in the stage.
An investor who traded in outer-iron ore futures told China Securities Journal that in the past year or two, almost all of them had to look at the "inside disk" as an "outer disk."
Beginning in 2016, a number of international commodity futures varieties reappeared as "China Moments", that is, their prices often followed the Chinese domestic market during Asian times, and another situation occurred during the local time. For example, in the 2016 non-ferrous metal bull market, LME multi-metal prices "followed" Chinese prices during the Asian session, but began to pull back in London.
A senior trader said that every time there is a "China time" in commodities, the price will rise sharply. The reason is closely related to China's changes in the status of import and export in the world. Since becoming a net importer of crude oil in 1993, China has gradually become a net importer of raw materials for many commodities before 2010. Under the huge demand, Chinese demand is deeply involved in the global pricing mechanism. The emergence of the "China Moment" in the commodity market is based on this trade pattern.
According to reports, from the perspective of global manufacturing, China's manufacturing industry system is the most complete, a total of 31 categories, Chinese companies are involved, which is more complete than the United States, Japan; from the perspective of industry scale, China 2010 Exceeding the United States, China's manufacturing output is the largest in the world. From the perspective of products, more than half of China's industrial output of more than 500 statistics is ranked first in the world.
In terms of commodities, China's imports are mainly reflected in three major areas: first, basic metals and ores, such as copper, nickel, iron ore; second, agricultural products, such as soybeans and corn; and third, energy and chemical products, such as oil, Coal, PTA, natural gas, etc.
Since the beginning of this year, China's import frequency is expected to exceed the market expectation. In the past 9 months, the 7-month data exceeded market expectations. What does this gorgeous import data mean?
Analysis of Jiang Dongying and Li Miaoxian pointed out that China's supply-side management is providing demand for the world, mainly in the following two aspects. First, China has constrained export growth through supply-side reforms, environmental protection and production control, and thus curbed China's consumption of global demand. Second, under the premise that the growth rate of domestic investment and consumption has not dropped significantly, the gap between supply and demand imposed by supply-side reform and environmental protection and production restriction will be filled by imports. In addition, supply-side management has pushed up domestic prices, which in turn has lowered domestic and foreign spreads, and even led to the inversion of domestic and foreign price differences of some commodities, stimulating traders to import goods.
Where are you going in the fourth quarter?
Then, in the fourth quarter, what will be the performance of bulk commodities under the influence of Chinese demand?
"In terms of demand, we believe that domestic demand will show strong tenacity in the fourth quarter. The high growth of industrial enterprises' profits will gradually release production capacity, and industrial growth is expected to rebound." Lianxun Securities said.
It is worth noting that the high base in the fourth quarter of last year may cast a shadow over the subsequent trade growth.
Monita research believes that without the excessive entanglement of short-term fluctuations in data, China's trading partners are further diversified and the trade structure is being further improved, driven by the "Belt and Road" initiative, which will be a competitive force for China's foreign trade. The long-term improvement has laid a good foundation.
"The trade performance in September has once again enhanced the optimism of the macro economy. The internal and external needs are resonating well, which also provides a substantial basis for future economic growth. Trade improvement and the implicit enthusiasm for production and investment behind it are steadily restored, plus the trading environment and The domestic macro environment is escorting, and we insist on optimism about the real economy," said Xu Jun, an analyst at Northeast Securities.
In terms of specific investment, Wei Wei suggested that investors can pay attention to the high value-added products, the high iron ore self-sufficiency rate of Taigang stainless steel, the high-end products exports accounted for a relatively high performance of listed companies, and is expected to directly benefit from the heating season. Stocks with limited production by environmental protection and high performance. (Source: China Securities Journal)
                Tip: All information, comments, etc. published by users in the community represent only personal opinions, and have nothing to do with the position of this website, and do not constitute any investment advice for you. Users should make their own decisions on securities investment and bear the corresponding risks based on their own independent judgment.
"Review of Self-discipline Management Commitment"