Posted 2018-04-16 07:09:47 Share it Web version
                        Top five brokers collectively recommend Hainan's two tax-free horse racing lottery concept stocks
Source: Jin Shi Zabian Editor: Oriental Wealth Network
  Click to view>>>Hainan plate market Capital flows

April 13, 2018, in Hainan, the year of ushered in heavy weight! Hainan will build free trade zones and free trade ports. On April 14th, the State Council supported Hainan's guidance on comprehensively deepening reform and opening up. 20 major initiatives listed the future development direction of the Hainan Free Trade Port: These include exploring the development of sports lotteries, encouraging the development of horse racing, and promoting cultural integration. Develop and implement tax-exempt shopping policies for outlying islands, gradually ban the sale of fuel vehicles, and encourage medical R&D.
  Hainan stocks (excluding suspension data) will benefit the most:
Among them, the stocks with positive returns and relatively reasonable valuations include: Tiida, Hainan Expressway, Luoniushan, SAIC, Straits, China Tungsten Gaoxin, Hainan Ruize, Jingliang Holdings.
Guotai Junan: It is mainly optimistic about listed companies in Hainan that involve tourism, logistics, infrastructure and environmental protection resources, and recommend individual stocks: China National Travel Service, BTG Hotels, and Sinopharm shares; benefited targets: Straits shares, Luo Niushan, Hainan Ruize, Hainan Rubber, Hainan Expressway, SAIC Group and Shuangcheng Pharmaceutical.
Orient Securities: We are optimistic about infrastructure, tourism, entertainment, transportation and other three major directions. It is recommended to actively lay out landscape environmental protection businesses, transform the ecological environment, and lay out Hainan Ruize in Hainan's cruise ships and horse racing projects in advance. It is recommended to pay attention to actively transforming Hainan Expressway of "real estate + great health + big tourism"; integrate home likes, introduce Ctrip, and have Sanya Nanshan. The first Brigade Hotel with the right to operate the scenic spots, and Luo Niushan, which intends to enter the racehorse industry; Hainan, the leading company of passenger transport in Hainan Province, actively expands the Straits shares of the Xisha route and Hainan, the major passenger transportation company in Hainan.
Huatai Securities: The theme of Hainan is expected to continue to heat up. The listed companies in the infrastructure and tourism industry chain are expected to benefit first and pay attention to the "Four Seas" combination: Dadonghai A, Hainan High Speed, Hainan Ruize, and Channel Stock.
Shen Wanhongyuan: Infrastructure, ports, aviation construction or "the most important thing" is where the proposal focuses on the five major subdividing directions of ecological gardens, tourism, local building materials, ports and aviation, and tax incentives. Recommendations focus on: Hainan Ruize, Channel shares, China National Travel Service, Hainan Expressway, Hainan Rubber, focusing on Hainan Ruize and China National Tourism.
Essence Securities: It is recommended that investors continue to pay attention to investment clues and be optimistic about the four main lines of duty-free shops, delivery, infrastructure, and horse racing. The duty-free shop business is optimistic about China's national travel, transportation is optimistic about the Straits shares, SAIC Group, infrastructure is optimistic about Hainan high-speed, Hainan Airlines foundation, horse racing is optimistic about HNA innovation, Luo Niushan.
Among them, at least two of the five major brokers have jointly recommended: China National Travel Service, Hainan Ruize, Hainan Expressway, Channel Stock, Luo Niu Shan, Hainan Rubber, and Haiqi Group. Among them, Straits Co., Ltd. and Hainan High-speed Co., Ltd. have all been recommended and are worthy of special attention. Hainan Ruize, China National Travel Service and Luo Niu Shan are also highly recommended.
In addition to the concept of Hainan, 20 major initiatives, including exploring the development of sports-type lottery tickets, encouraging the development of horse racing, promoting the integration of cultural and tourism development, and implementation of tax-exempt shopping policies on outlying islands, will also benefit the relevant stocks.
List of Hainan tax-free concept stocks:
List of horse racing stocks: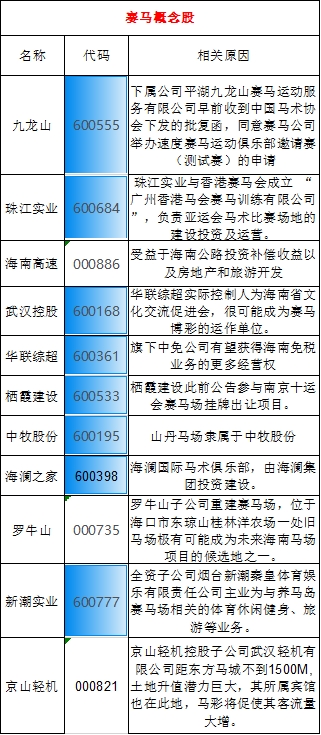 List of Sports Lottery stocks: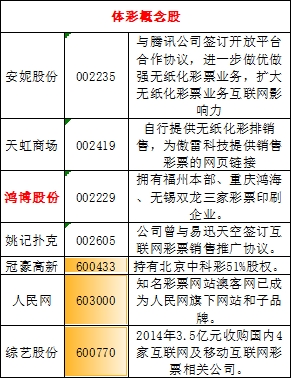 List of housing enterprises (travel) concept: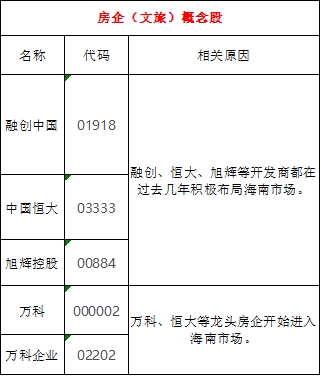 In the past few years, many developers have noticed Hainan's good ecological environment and greater advantages. Sunac, Evergrande, and Xuhui have all actively deployed Hainan's market in the past few years.
Liu Shuguo, secretary general of the Sanya Real Estate Association, pointed out that when Hainan became an international tourist island, many housing companies entered Hainan, and Vanke, Wanda, Evergrande, Greenland, Greentown and Sunac all began to enter the Hainan market. The hot sales of many projects have further verified the existence of demand.
With 20 major initiatives:
1. Exploring the development of sports-type lottery tickets and large-scale international competitions.
2, to encourage the development of horse racing and so on. Support the establishment of a national sports training southern base and provincial sports center in Hainan, encourage the development of beach sports, water sports, horse racing and other projects, and support the creation of a national sports tourism demonstration area.
3. Promote the integration of culture and tourism. We will vigorously develop new cultural consumption such as animation games, online culture, and digital content to promote the upgrading of traditional cultural consumption. The tourist hotel is allowed to receive overseas TV channels approved by the country.
4. Promote the deep development of military and civilian integration. Hainan will become a demonstration base for the development of military and civilian integration. Build a national strategic energy reserve base.
5. Encourage overseas institutions to settle in Hainan. Support Hainan to promote the construction of its headquarters base and encourage multinational corporations and large domestic enterprise groups to establish international headquarters and regional headquarters in Hainan. Support the establishment of a 21st century maritime Silk Road culture, education, agriculture and tourism exchange platform in Hainan to promote the construction of Qionghai Agriculture's opening up and cooperation pilot area.
6. Establish Hainan Free Trade Port Construction Investment Fund. The relevant departments of the Central Government shall, based on the Hainan Province's construction of a free trade pilot zone, explore and implement the free trade port policy that meets Hainan's development orientation, promptly decentralize the relevant administrative authority to Hainan Province and give full autonomy in the reform. In accordance with the market approach, Hainan Free Trade Port Construction Investment Fund was established.
7, a high starting point for the development of the marine economy. Actively promote the commercial exploitation of natural gas hydrates and seabed minerals in the South China Sea, encourage private enterprises to participate in the development of the South China Sea resources, and accelerate the cultivation of emerging industries such as marine life, seawater desalination and comprehensive utilization, marine renewable energy, marine engineering equipment R&D and application, and support the modernization of construction Ocean Ranch.
8, on the island tax-free shopping policy. We will implement a more open and convenient tax-exempt shopping policy for outlying islands, achieve full coverage of outlying islanders and increase duty-free shopping quotas.
9, on the route. Support Hainan to open a multinational cruise route and support Sanya and other cruise ports to carry out trials of open ocean shipping routes to speed up Sanya's development towards the home port of the cruise ship. Relaxation of yacht tourism control. We will promote the development of Xisha tourism resources in an orderly manner and steadily open up the island tour.
10. About Boao Music City International Medical Tourism Preceding Area. We will fully implement and improve the international medical tourism pioneer district policy of Boao Music City, encourage the research, development and application of new medical technology, new equipment, and new drugs, and formulate a facilitation policy to support overseas patients in the first-aid district.
11. Allow foreign investment in cultural industries. Foreign investors are allowed to set up performance brokerage agencies operating in the province in Hainan to allow foreign capital to set up performance venue business units in approved cultural tourism industrial clusters in Hainan Province. Performance programs must comply with national laws and policies.
12. Gradually prohibit the sale of fuel vehicles. Scientifically and reasonably control the number of motor vehicles, accelerate the promotion of new energy vehicles and energy-saving and environmentally friendly vehicles, and gradually prohibit the sale of fuel vehicles on Hainan Island.
13, green. A total ban on the production, sale and use of disposable non-biodegradable plastic bags and plastic tableware in Hainan will accelerate the application of green packaging in the express delivery industry.
14, the construction of "digital Hainan." We will promote the full coverage of urban and rural fiber optic networks and high-speed mobile communication networks, accelerate the implementation of information into villages and households projects, and strive to improve the ability of communications and protection in the South China Sea.
15. Establish international trading venues such as energy and commodities. Support the establishment of international trading sites such as energy, shipping, bulk commodities, property rights, equity, and carbon emission rights in Hainan in compliance with laws and regulations.
16. Create a strategic highland for space technology innovation. For strategic areas such as deep-sea exploration, development and utilization of marine resources, and aerospace applications, Hainan will support the deployment of a number of major scientific research infrastructure and conditional platforms, and build a major science and technology innovation base in the aerospace field and a national deep-sea base south center.
17. Coordinate the promotion of rural land expropriation, collective construction land acquisition, and homestead system reform pilots in Hainan province, and establish a mechanism for adjusting the reasonable parity of different ownership and different-purpose land for construction and a value-added income distribution mechanism to co-ordinate different regions and have different Farmers' income of type land.
18. Strengthen regional cooperation and interaction. Close cooperation with Hong Kong and Macao in maritime, maritime police, fisheries, maritime search and rescue, and other areas, and actively docking Guangdong, Hong Kong and Macao Bay Area.
19. Implement the most stringent land-saving system. Implement dual-control actions on the total amount and intensity of construction land, promote urban renewal and reconstruction, and carry out overall integration and unified development of inefficient and scattered land, ensuring that the total amount of construction land in Hainan does not increase on an existing basis, and the average urban industrial and mining land per capita and domestic unit The area used for the construction of gross production land has steadily declined.
20. It is necessary to formulate a plan to stabilize market expectations and resolutely guard against speculation in real estate speculation.
                Tip: All the information, speeches, etc. posted by the user in the community only represent personal opinions and have nothing to do with the position of this website. It does not constitute any investment advice for you. Users should make their own decisions on securities investment and take corresponding risks based on their own independent judgment.
Self-discipline Management Commitment in Follow-up Comments