Posted 2018-04-17 15:57:27 Share it on the web version
                        The Foreign Ministry Discusses Sino-US Economic and Trade Frictions: If the U.S. Side Will Be Involuntary, China Will Combat Rush
Source: Xinhua News Agency Editor: Oriental Wealth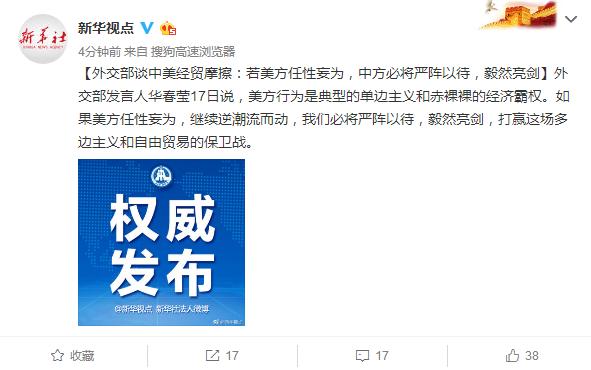 Foreign Ministry Spokesperson Hua Chunying said on the 17th that the US behavior is typical of unilateralism and naked economic hegemony. If the U.S. side is inhuman and continues to move against the tide, we will surely stand by it and resolutely shine our sword to win this battle of multilateralism and free trade.
   [analysis of the analysis]
  How will the Sino-US trade war end?
Compared with the beginning of the month and the vengeance of the sword and the smell of gunpowder, the trade war between China and the US began to show signs of abating last week.
China's position at the Boao Forum has become a clear turning point. Afterwards, China has also announced a series of real open policies.
The United States has also successfully found the "step" that China has given. Trump then stated: "I will not call it a trade war because it is really a trade negotiation."
Trump also said that if China is willing to further open markets to US products, the two countries will have the ability to avoid trade wars.
Therefore, judging from the current situation, the two sides previously claimed to levy tariffs, and the total amount was high, mainly to win more chips at the negotiation table.
  one
At present, according to the Ministry of Commerce, "Chinese and US financial officials have not conducted any negotiations on economic and trade frictions." However, judging from the attitudes of the two sides last week, China and the United States have now begun to create "atmosphere" for each other to prepare for negotiations.
Recently, a lot of people are arguing that if the trade war really starts, it is whether China is hurt more than the United States. In fact, there is no point in arguing about this. If the trade war really starts, no one will be the final winner, and there will definitely be a situation of "destroying the enemy by 10,000 and causing a loss of 3,000".
Therefore, individuals believe that the position China made last week is the most correct way for a responsible big country to handle trade disputes. It should first pose and take the initiative.
This statement shows that we have a sober understanding of this trade war, resisted the pressure of domestic special interest groups and narrow nationalism, and made pragmatic choices.
Specific follow-up policies of China include:
1. It will reduce automobile import tariffs considerably, and at the same time reduce import tariffs on some other products.
2. Cancel the restrictions on the proportion of foreign ownership of banks and financial asset management companies, and treat all foreign investors equally; foreign banks are allowed to set up branches and sub-banks in China simultaneously;
3. Relax the upper limit of foreign shareholdings of securities companies, fund management companies, futures companies, and personal insurance companies to 51%, and no longer impose restrictions on them after three years;
4. It is no longer required that at least one domestic shareholder of a joint-venture securities company be a securities company;
5. To further improve the interconnection and interflow mechanism between the Mainland and Hong Kong stock markets, from May 1 onwards, the daily quota for interconnection will be expanded by four times;
6. Allow eligible foreign investors to come to China to operate insurance agency business and insurance assessment business.
7. Let go of the business scope of foreign insurance brokerage companies and be consistent with Chinese-funded institutions.
Previous open policies also include: Encouraging the introduction of foreign capital in banking, financial leasing, auto finance, currency brokerage, and consumer finance, etc. "," Significantly expanding the scope of foreign banking business, "Shanghai Luntong" strive to open this year .
China has demonstrated to the world the sincerity of "more openness" and the United States has also responded positively. Trump said through Twitter on April 10th: "We are grateful to President Xi Jinping for his goodwill in tariffs and reduction of automobile import barriers ... and his position in intellectual property and technology transfer is also very instructive."
More importantly, the U.S. business community does not want the Sino-U.S. trade war to really start. Boeing said at the 2018 Asian Business Aviation Conference and Exhibition (ABACE), "As a company we strongly support the two governments in an active and friendly negotiation. This is the only thing we can do now as a company."
Therefore, the atmosphere of trade friction between the two sides has eased a lot. The United States is also very clear that the US trade economy will be greatly hurt when the trade war begins.
  two
However, why was Trump so tough to China before? Making China have to tit for tat.
Analysts believe that this is inseparable from the changes in the domestic politics of the United States. Behind the trade war, the Republican Party has turned into a supporter of trade protectionism. The fundamental change in the electorate base is the fundamental reason for the transformation of the Republican Party.
According to statistics from CNN in September last year, Trump's intra-party support rate has been stable at about 85% for a long time, exceeding 82% of Vice President Burns and 66% of House Speaker Ryan.
According to a 2016 survey by the Pew Center, due to Trump's influence, the Republican and Republican middle-class voters had a big drop in the degree of recognition of free trade during the election period, falling from 56% in 2015 to voting in the polls. The previous 29%.
At the end of the election, up to 85% of Republican voters strongly believed that it was free trade that destroyed the US job. In the same period, this figure accounted for only 54% of Democratic voters.
According to a recent statistics from Quinnipiac University, 58% of Republican voters support the increase of tariffs, which has given Trump a legitimacy in the trade war.
Therefore, Trump's tough performance in the previous trade war is also understandable. He hopes to gain more benefits from China to win higher support rates.
According to researchers' estimates, between 2000 and 2007, because of China's import competition, the United States lost 980,000 manufacturing jobs. It is these ordinary American blue-collar workers who sent Trump to the White House.
Therefore, for Trump, the "propaganda" role of the trade war is greater than the tariff imposed on China's 150 billion U.S. dollars in commodities. His political foundation is not a multinational corporation but a blue-collar worker.
  three
In fact, Trump, who was a presidential candidate in 2016, has always regarded the issue of foreign trade as one of the main campaign guidelines and threatened to impose a 45% tariff on all imports from China, as well as setting China as a "currency manipulator".
After being elected in 2017, Trump took the tax reform and medical reform as the focus of the policy, and the issue of foreign trade is the second best solution.
In April 2017, when Chinese high-level officials visited the United States, an important consensus reached between China and the United States was that it would launch a "100-day business dialogue". At that time, China and the United States entered the honeymoon period, and the United States finally did not label China as a "monetary operating country".
In November 2017, Trump visited China, and U.S. trade representative Robert Lettzel showed a tough attitude on the issue of trade intellectual property, and the nationalist school had the upper hand.
Later, trade frictions between China and the United States continued.
In January of this year, Trump imposed a tariff on solar panels and washing machines through the 201 Act, mainly targeting China. China counterattack, announced the anti-dumping investigation of US sorghum imports.
In March, Trump ordered that on the grounds of national security, according to the 232 Act, tariffs be imposed on all steel and aluminum imports from the United States, and China threatened to impose retaliatory tariffs on imports of pork, dried fruits, etc. from the United States.
From the end of March to the beginning of April, Trump announced the investigation of China's intellectual property rights based on the 301 Act and prepared to impose a 25% tariff on China's imports of 50 billion U.S. dollars. China immediately counterattacked and announced that it was preparing to impose tariffs on its equivalent US imports.
Later, Trump poured fuel and threatened to impose tariffs on another 100 billion U.S. dollars of Chinese imports. China counterattack: "We must take a new comprehensive response."
From the above, it can be seen that there are not many trade sanctions actually implemented by the two sides. The new tariffs that the United States has already implemented are only 201 solar panels and washing machines and 232 steel and aluminum tariffs.
Therefore, both sides are still at the stage of verbal warfare. Both China and the United States may understand: "If you combine, you will benefit both, and fighting will hurt both."
The following is a chart showing Sino-US trade in the past decade. Although trade frictions between the two sides have continued, the trade volume has been increasing.
The most important purpose of the US launching a trade war with China is to hope that China can reduce its trade surplus. In 2007, China's trade surplus with the United States was US$163.285 billion and in 2016 it rose to US$250.825 billion.
However, do not think that these huge trade surpluses are all cheap for China. The figure below shows the export situation of foreign-invested enterprises in the past decade.
In the last ten years, foreign-invested enterprises' exports have consistently accounted for about 50% of China's total exports, but they have declined since 2012. This is mainly related to the rise of local brands.
In addition, if we look at the total amount of exports from foreign-invested companies, it has been rising from 2007 to 2014, but it has declined in 2015 and 2016.
The People's Daily reported previously that taking the iPhone as an example, China (excluding Taiwan) provided coil modules, radio frequency antennas, and appearance parts for wireless charging receivers.
After all, China's value in the entire manufacturing process is about 55 U.S. dollars, including 3 U.S. dollars in wages paid by Chinese workers for their hard work. With the price of $999 for the iPhone in the United States, China can only earn about 1/20 of the money for each sale.
Therefore, in today's global trade is closely linked, the economy of various countries has long been "you have me, I have you", and the trade war will definitely not only hurt the other side and make you unscathed.
  four
In the 1990s, China's economic strength was not yet strong. The United States used "Section 301" mainly to increase more bargaining chips in trade negotiations with China.
Later, after consultation between the parties, trade disputes often ended with the signing of an agreement between the parties. These agreements may only focus on specific areas and have relatively limited economic impact.
Now that the two sides have reached a historical point, how will the Sino-US trade war end?
Haitong Securities predicted in its recently released report that there are three ways to end the Sino-US trade war:
  Possibility 1: The two sides negotiated reconciliation
Both China and the United States used the proposed taxation list for 15 days and 30 days for public announcements to negotiate their respective claims and reached a preliminary agreement. Trump's punitive tariffs on goods worth 60 billion U.S. dollars have not been implemented.
If Trump's most important appeal lies in narrowing the US deficit with China, there are two methods. One is to expand China's trade imports to the United States, and the other is to narrow China's trade exports to the United States.
Judging from the current situation, China's expansion is more likely to be imported into the United States. We have said on different occasions: "We do not aim at pursuing a trade surplus and hope to increase imports."
Judging from the historical results of negotiations, China's easily accepted conditions may be to liberalize access to some service markets and increase imports of U.S. goods. The current liberalization of the financial industry is an example.
On the whole, if this can be resolved through negotiations, the impact of this trade friction on China-US trade and economy is relatively small.
  Possibility 2: Punishment duties are fully or partially implemented
Punitive tariffs will still be implemented, but both parties have made concessions after negotiation. In this case, the two sides may each make a step, but the punitive tariffs on technology products will still be partially implemented.
At the 25% tariff rate, if the United States taxes China's 60 billion, 50 billion, 30 billion and 10 billion U.S. dollars in imports, it will cause China's exports to the United States to fall by 13.2 billion U.S. dollars, 11 billion U.S. dollars, and 6.6 billion U.S. dollars, respectively. USD, 2.2 billion U.S. dollars.
In 2017, China's total export volume was US$2.26 trillion, and the impact of punitive tariffs on China's exports was 0.58%, 0.49%, 0.29%, and 0.10%, respectively.
In the same way, the impact on exports was 0.32%, 0.27%, 0.16%, and 0.05% when the tax rate fell to 15%.
  Possibility 3: Conflict escalation leads to proliferation of tariff objects
As trade conflicts escalate, the United States not only taxes the 60 billion U.S. dollars it currently mentions, but also expands the tariffs to all Chinese exports. China will face a similar situation to that of Japan.
However, China will not show weakness. According to China's principle of retaliation with "the same size, the same amount, and the same intensity", China may impose tax on US imports of US$150 billion, and US exports to China will also be about US$150 billion a year.
Therefore, if the trade war is started, no one can make up for it. We hope to control the edge of the trade war within the first category. (Source: Tiger Sniff Network)
  Focus on Sino-US Trade War >>
  Overnight, the trade war was upgraded again! Just gave China Communications giant a 7-year prohibition order
  China's Ministry of Commerce: Implementing Provisional Anti-dumping Measures on Imports of U.S. Imported Sorghum
                Tip: All the information, speeches, etc. posted by the user in the community only represent personal opinions and have nothing to do with the position of this website. It does not constitute any investment advice for you. Users should make their own decisions on securities investment and take corresponding risks based on their own independent judgment.
Self-discipline Management Commitment in Follow-up Comments