Published on 2018-04-17 21:50:41 Share it on the web version
                        LeTV Respond to Shenzhen Stock Exchange Inquiry Letter The media exposed Jia Yueting behind the "White Samurai"
Source: Securities Times Network Editor: Oriental Fortune Network
LeTV will reply to the Shenzhen Stock Exchange inquiry letter tonight evening, saying that it is unable to confirm whether the funding source of FF is directly or indirectly related to the company's related party's receivables or the relevant commitments of Jia Yueting's failure to perform. In addition to the announced part of the new music as wise family replenishment work, the follow-up work is still in communication with the parties, agreed upon, not yet signed an agreement. The following is the full text of the reply letter: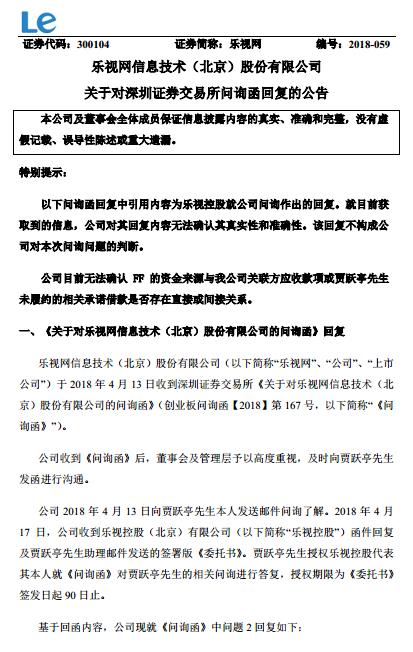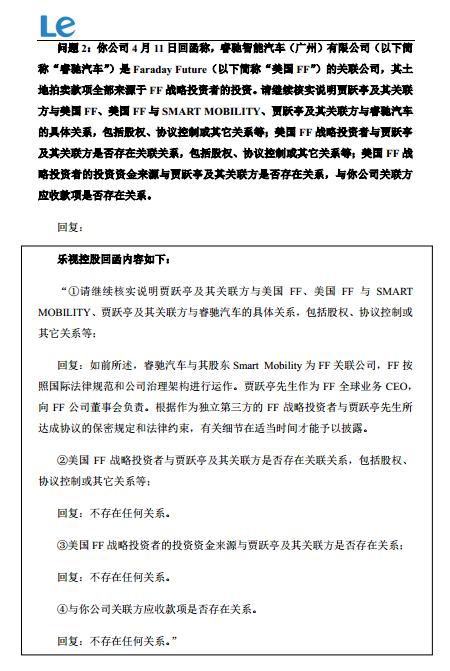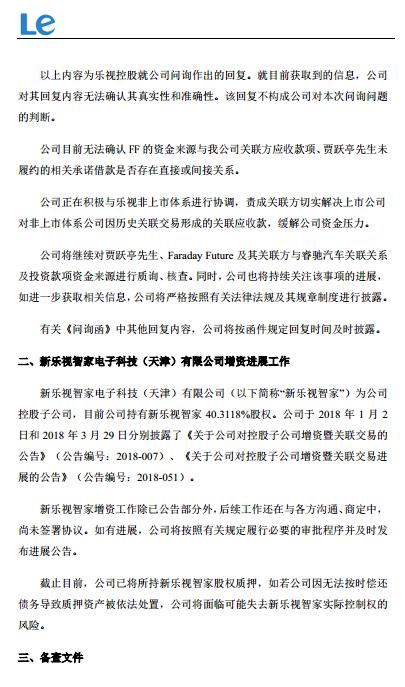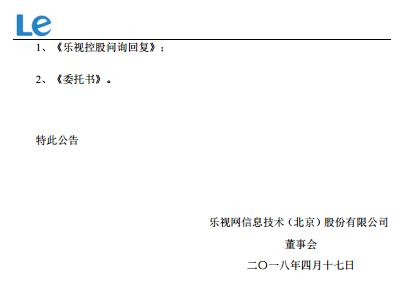 According to another report by Sina, the reporter interviewed the strategic investor "Fashion of Hong Kong" behind Faraday's future (FF). According to Jackie Wah, a director of Shi Ying Company, Shi Ying and Jia Yueting co-founded a company. Shi Ying contributed 2 billion U.S. dollars, accounting for 45% of the shares of the cooperative company, and was the largest shareholder; Jia Yueting used FF as the company's price, accounting for 33% of the shares; the company's management team held 22% of the shares. The investment funds will be invested in batches in batches to the co-operative company. The funds will be used for R&D production and the establishment of a production base in Nansha, Guangdong, China. Currently, Ying has injected 550 million U.S. dollars into the cooperating companies.
Jackie Wah said that Ying Ying Investment FF is mainly focused on the FF world's leading product strength. Its luxury model, the FF 91, is the first production car with numerous groundbreaking and subversive imaginations for sports performance, artificial intelligence, extreme connectivity, and a super-user experience. For example, the FF 91 has a maximum horsepower of 1050 horses, a speed increase of 2.39 seconds per 100 kilometers, and a cruising range of 700 kilometers. Many technical indicators lead the world.
The reporter sought confirmation from Jackie Wah that Shi Ying's shareholder was Hong Kong's hidden rich Zhao Du. Shi Ying's relationship with Evergrande may not be direct or indirect.
  Extended reading>>
  Evergrande invested $300 million in Jia Yueting's Faraday Future and established automotive team
  Jia Yueting's wife, Gan Wei, was first listed on Lao Lai's list: the Department of Plants recovered a loan of 1.4 billion yuan.
                Tip: All the information, speeches, etc. posted by the user in the community only represent personal opinions and have nothing to do with the position of this website. It does not constitute any investment advice for you. Users should make their own decisions on securities investment and take corresponding risks based on their own independent judgment.
Self-discipline Management Commitment for Follow-up Comments