Published on 2018-04-18 15:19:33 Share it web version
                                    Australia launches anti-dumping and anti-subsidy investigation on China's railway wheels
Source: Ministry of Commerce website
On April 18, 2018, the Australian Anti-Dumping Committee issued an announcement to formally launch an anti-dumping and anti-subsidy investigation on the railway wheels originating in China (RailwayWheels), and initiated an anti-dumping investigation against the product originating in France. The applicant for this survey is Australia's Commonwealth Steel Company Pty Ltd, which is made of forged steel and rolled steel, high hardness, 966mm-970mm diameter railway wheels. According to Australian statistics, in 2017, I exported 7.7 million US dollars of products to Australia. This product is mainly attributed to the Australian Customs Tariff No. 8607.19.00.
  【the recent report】
  China's Ministry of Commerce: Taiwan launches countervailing anti-dumping investigation against Chinese mainland steel products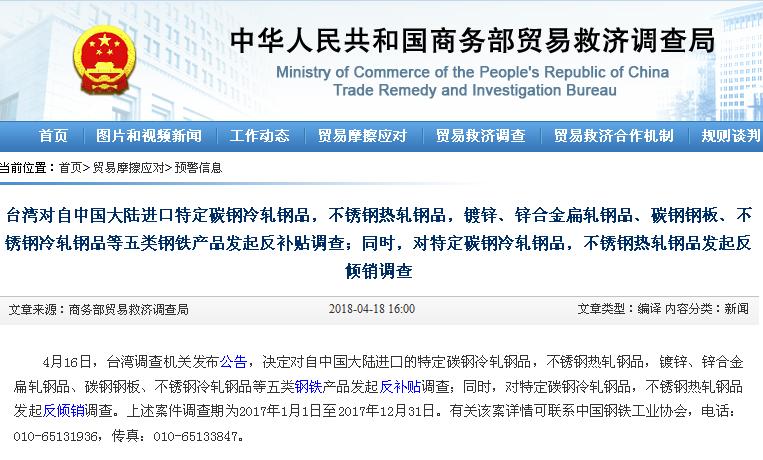 On April 16, the Taiwan investigation authority issued an announcement to determine the specific carbon steel cold-rolled steel products imported from mainland China, stainless steel hot-rolled steel products, galvanized, zinc alloy flat rolled steel products, carbon steel steel plates, stainless steel cold-rolled steel products. Five categories of steel products were launched to conduct countervailing investigations; at the same time, anti-dumping investigations were conducted on specific carbon steel cold-rolled steel products and stainless steel hot-rolled steel products. The investigation period of the above case is from January 1, 2017 to December 31, 2017.

  聚焦中美贸易战>>
  Cui Tiankai: China is against trade wars but not afraid. Some people insist that we must accompany them to the end.
  China-US trade war spearheaded China's chip weaknesses What are the relevant stocks of China's chips? (list of companies attached)
  Just now, the United States released a positive signal: China has not manipulated the exchange rate! The trade war is not playing?
            Tip: All information, comments, etc. published by users in the community represent only personal opinions, and are not related to the position of this website, and do not constitute any investment advice for you. Users should make their own decisions on securities investment and bear the corresponding risks based on their own independent judgment.
"Review of Self-discipline Management Commitment"