Published on 2018-07-24 14:57:09 Share it web version
                        Shanghai stock index heavy volume three consecutive yang regain 2900 points
Source: Eastern Fortune Network
  Click to view>>>Infrastructure sector market Cash flow

The Shanghai Composite Index opened higher today and closed up 1.61%. The daily K-line was three consecutive yangs, regaining the 2900-point integer mark and closing at 2905.56 points. The market turnover continued to increase, with a total turnover of 492.8 billion yuan. The industry sector rose across the board, and the infrastructure sector rallied.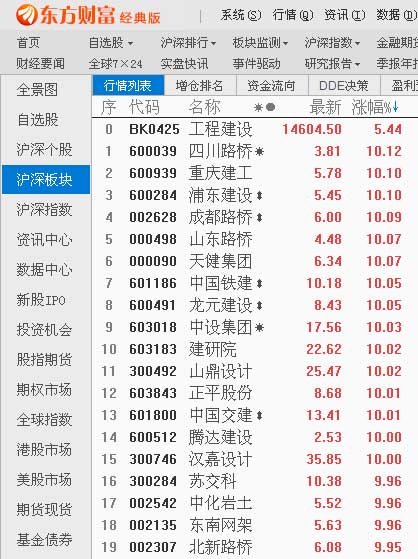 For the market trend of the market outlook, institutions have expressed their views.
CICC:
Recent policy is expected to show improvement signals, which will help improve market sentiment, prompt market expectations to return to normalization, and catalyze the rebound. Financial, cyclical and small and medium-sized stocks are expected to rise first in the rebound process, but the rebound in consumption and advanced manufacturing sectors is more sustainable.
Zheshang Securities:
At present, the market is in the process of shock and rebound, and there may be repeated. In terms of configuration, the cycle sector can focus on industries such as finance, real estate, and steel. The growth direction suggests focusing on high-tech industries supported by policy, mainly in TMT and high-end manufacturing.
Huachuang Securities:
Under the combination of multiple policies, the marginal improvement of the market environment, while the liquidity warming further boosted market sentiment, the current market resistance is the smallest direction, and the rebound space opens. Post-recommended cycles and growth industries, including medicine (evading the vaccine industry chain), computers, and mass consumption.
CITIC Securities:
Based on the marginal improvement of policies and the negative emotions have been fully released, short-term investors can continue to grasp the oversold rebound opportunities. We recommend industrial automation, network security, consumer electronics, banking and insurance, and focus on the new energy vehicle industry chain.
Guoyuan Securities:
The recent positive signs on the policy side will help boost market sentiment, but investors still have to wait for the turning point of key indicators, such as the growth rate of social financing and the narrowing of the spread of low-rated credit bonds.
  Focus on >>
  The national regular meeting has been set! Fiscal policy should be more active, monetary policy should be more moderate
  10,000 2.5 commissions to open an account, enjoy 5 major features! >>>

                Tip: All information, comments, etc. published by users in the community represent only personal opinions, and have nothing to do with the position of this website, and do not constitute any investment advice for you. Users should make their own decisions on securities investment and bear the corresponding risks based on their own independent judgment.
"Review of Self-discipline Management Commitment"