Published on 2018-07-26 08:31:26 Share it web version
                        Facebook's second-quarter daily revenue was lower than expected: after the market plunged more than 20%, the market value evaporated billions of dollars
Source: 36氪 Editor: Eastern Fortune Network
In the data leakage incident, the EU's strongest privacy regulations and fake news, Facebook's new quarter revenue and global daily users are lower than expected.

On July 25th, US social time, social giant Facebook released its second quarter earnings report for the 2018 fiscal year. Revenue was 13.231 billion US dollars, up 42% year-on-year, but lower than expected, the first time in three years was lower than expected; daily users were 1.47 billion, also lower than expected, the chain growth rate is the lowest ever, and Europe The region even experienced negative growth. At the same time, Facebook's advertising revenue, earnings per share and other indicators also showed signs of slowing down.

Earnings per share were $1.74, higher than Thomson Reuters had previously expected $1.72;
Revenue was $13.231 billion, lower than Thomson Reuters' previous forecast of $13.36 billion; advertising revenue was $13.038 billion, up 42% year-on-year; net profit was $5.106 billion, up 31% year-on-year;
The number of daily users in the world is 1.47 billion, which is lower than the 1.49 billion people expected by StreetAccount and FactSet. The number of users in North America is 185 million, while FactSet was expected to be 185.4 million. The number of users in Europe is 279 million. FactSet had previously expected 279 million people;
The average revenue per user was $5.97, which was higher than the $5.95 that StreetAccount and FactSet had previously expected.
  The share price fell once to 23%, and the market value evaporated by $126 billion.
Affected by this, Facebook's share price fell all the way after the fall, the decline reached 10%, after the conference call, the decline has expanded to 22.7%, the stock price fell to 168 US dollars.
From this calculation, the founder and CEO Mark Zuckerberg's personal wealth evaporates 16.8 billion US dollars, and the company's market value has dropped by 126 billion US dollars.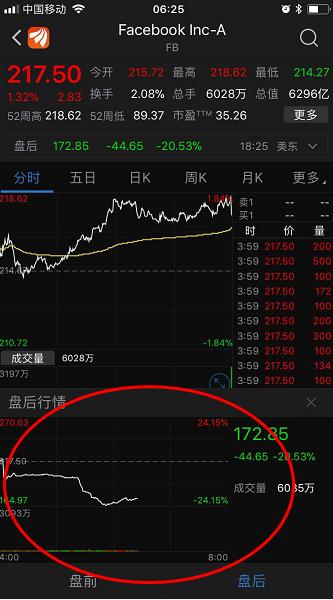 Daily revenues are not as expected, revenue will continue to narrow in the second half of the year
Facebook already has three apps for billions of users. According to the report, about 2.5 billion people use their products every month, including Instagram and WhatsApp. Some analysts believe that Instagram is the future of Facebook.
Although Facebook's global daily users increased by 11% year-on-year – new additions from India, Indonesia and the Philippines, they are still lower than Wall Street's expectations. Among them, the growth of users in Europe was negative, from 282 million in the previous quarter to 279 million, while the United States and Canada were flat at 185 million.
This is due to a severe slowdown in user growth and the impact of previous EU privacy regulations and user data leakage incidents.
From the data of the past three years, the daily growth of daily users has the lowest value of 1.54%. In the past, the highest value reached 4.67%.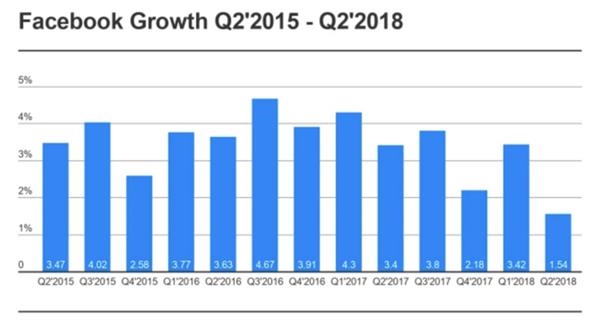 In addition, on May 25 this year, the EU General Data Protection Regulations (GDPR) came into effect, known as the strictest user privacy provisions. Previously, the analysis of tens of millions of user data caused by Cambridge Analytica has kept Facebook in a downturn.
In the last quarter, data breaches did not affect the company's performance, and CFO David Wehne had predicted that it might have an impact on day, month and revenue in the second quarter. This time, Zuckerberg said that GDPR has caused the growth of European users to decline.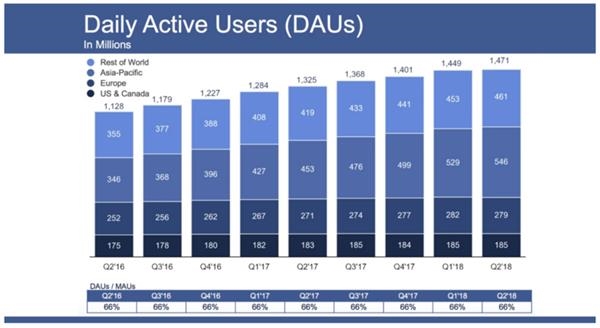 "GDPR has not yet had an impact on revenue, but we have to admit that it just didn't show up completely in the quarter." COO Sheryl Sandberg analyzed on the conference call, which means that European users are still likely to reduce in the future.
In terms of monthly users, the European region is still declining, from 377 million to 376 million, while the United States and Canada are flat at 241 million, with growth in other regions.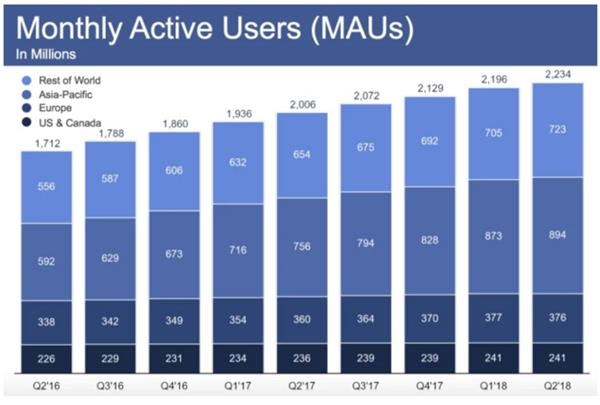 Although the growth of daily living users has slowed down significantly, the average payment per user is good, including North America, which increased from $23.59 in the previous quarter to $25.91.
On the conference call, Facebook expects its revenue growth to continue to narrow, especially in the second half. Among them, the third and fourth quarter growth will show a high single-digit decline. This is because Facebook has been investing in Stories, but it has not yet been commercialized, and the continued impact of new privacy regulations and other impacts on meeting user needs.
"We will continue to focus on the product, but will put privacy considerations first, which may have an impact on revenue," David Wehner said.
In the next few years, the operating profit margin is expected to be between 30 and 39 percentage points in the central region.
  相关报道>>>
  The data leakage scandal is under pressure

  Facebook's stock price plummeted: Zuckerberg is worth $16.8 billion

  Facebook share price plummeted 20%, small tie lost $16.8 billion = SF Wang Wei all in the house

  Facebook's share price plummeted 20% Zuckerberg's net worth or was overtaken by Buffett

  Well-known analyst Munster: investors should stay away from Facebook in the short term

                Tip: All information, comments, etc. published by users in the community represent only personal opinions, and have nothing to do with the position of this website, and do not constitute any investment advice for you. Users should make their own decisions on securities investment and bear the corresponding risks based on their own independent judgment.
"Review of Self-discipline Management Commitment"