Published on 2018-11-01 11:48:05 Share it web version
                        The 3rd Anniversary of Xu Xiang Case: The Multifaceted Life of "The King of Trading"
Source: Wild Horse Finance Editor: Eastern Fortune Network
When the A-shares broke through 2,500 points, a Hong Kong-based Jiangsu and Zhejiang hot money squad sent me a faint report message after the end of the copy:All the bullets were shot, and I couldn't see the Pudong Road, which was a pity.
Guotai Junan Shanghai Dapu Road Sales Department is the most commonly used seat of Zexi Private Equity Fund. Sitting in the private equity of the Lujiazui Bank of East Asia Building, Xu Xiang, who often directed 10 billion yuan in and out of the fight.
After a hundred wars, he was trapped in a shackle. Now Xu Xiang, who is slightly blessed, is serving his sentence in Qingdao. It is in line with his usual style of meditation and meditation. As for whether he is a Hermès or a white man, he may not think that the difference is small.
  Xu Xiang is the most legendary secondary market trader in China's stock market. Xu Xiang, a civilian who was born at the age of 15, entered the market with 30,000 yuan, and accumulated more than 20 billion book wealth by 2015.The wild horse finances for several months, through Xu Xiang's relatives and friends around, tried to restore Xu Xiang from a young boy to a capital, and witnessed the ups and downs of China's capital market and the growth of China's stock market for 24 years.
On November 1, 2015, Ze Xie made a case. When Xu Xiang returned to Shanghai from Ningbo, he was stopped on the Hangzhou Bay Bridge. After that, Xu Xiang was sentenced to 5 years and 6 months in prison and more than 20 billion yuan in fines. , the most similar punishment in China's securities trading market.
  In his later years, Hao Hao was so emotional that he could not take it with him...
  1
  Ningbo Jiefang South Road is a magical road, from the north to the south of Jiefang Bridge, to the south of the road to Jiefang South Road, and then to the south one road to cut into several sections, to Changchun Road, there is only one hundred meters of street.
There is no shortage of capital wealth stories in Jiefang South Road.The old Ningbo said that the place is full of feng shui, the intersection of four roads and one bridge, is a good place to start things.
The liberation of the South China Road to the death squad of the China Capital Market is divided into two adjacent sales departments: Galaxy Securities and Tianyi Securities. In 2004, Xu Xiang became the daily limit of the death squad, and a tall Wenzhou-based handsome man stood on the 18th floor of Zhongning Building, which is a few hundred meters away from the Tianyi Securities Sales Office. He looked at Fenghua, Fenghua. Jiang, put an insurance business license seriously, and ran wildly in the capital market.
This is not the first time Wenzhou Daxie has come to Ningbo Nuggets. In February 1995, another Wenzhou-born Huang surnamed man quietly came to the business office of Changchun Road in Zhongjing, and opened a long-term giant order for the "327 National Debt" futures. A few days later, he digs away the "small targets" of the two richest men and quietly left.
  That is the era when the capital market is black and white. Compared with the relatively mild stock market, the futures market is the battlefield for the big people to kill.Hainan rubber, Suzhou three plywood, behind each futures delivery are thrilling bloody stories. In front of the barbaric bookmakers, the futures exchange is more like a matter of fact. The negotiation between the long and short sides is like the reality version of the Hong Kong gangster movie.
Hao Hao also said, "Life and death have life, wealth is in the sky."
A few years later, Xu Xiang went from Ningbo to Shanghai to the financial street in Beijing. Wenzhou Junnan went from Zhongning Building to Chang'an Street, and its assets exceeded one trillion.
Ten years later, grassroots and power were on the same path. Xu Xiang and Wenzhou Junnan were standing in the dock.A brother keeps his demeanor and calms himself - nothing more than a hundred billion of wealth is gone, Wenzhou Junnan is only crying and crying...
  2
In 1992, 15-year-old Xu Xiang officially entered the market with his mother's account. The initial capital was 30,000 yuan, but he was too eager or even eager for wealth.
Compared with the greed of greed in futures, Xu Xiang's trend of groping is equivalent to moving bricks to make hard money. Just, the dream is always there, in case it is realized?
The book has its own gold house. Prior to this, he had already conducted research on the capital market and often went to bookstores to watch various legends of the rich. In the end, he came to a conclusion:In modern society, to become a rich man, civilians must rely on the capital market, or like Bill Gates to get the company listed, or like Buffett to earn money by buying and selling stocks.
This is a road to Rome, and you can run on the road.
In the early years, the A-shares did not have any ups and downs. The oil paintings of the dealers were like Degas, which was simple and rough and had no beauty. For example, in late May 1995, the Shanghai Composite Index soared from 577 points to 926 points in just three trading days, an increase of 59%. If a stock rose more than 100% a day, it may fall 50%.
The top management feels that this cut amaranth is a bit overdone, and the risk is still to be controlled. Since December 16, 1996, the Shanghai and Shenzhen exchanges have made regulations requiring that the stock exchanges should be subject to price limits of 10% per day, which is applicable to the day.
As a result, there has been a practice of chasing the daily limit. Among them, a business department of Hefei Securities and Hefei is often on the list, which has become the focus of the market. Xu Xiang, 20, and his cousin, Ma Xinqi, also explored and upgraded the daily limit. After half a year, the model was mature.
This is a way of relying on probabilistic algorithms and speed, which requires a high degree of sensitivity and confidence in trading sentiment. Xu Xiang mastered this skill skillfully. Statistics show that many retail investors respect the pursuit of the daily limit, and ultimately did not succeed.
  The daily limit is only a successful choice, but it is not necessarily successful. This logic is equivalent to reading Financial Financing and not becoming Soros.
Becoming a qualified trader can be trained and worked hard. Being a top trader still requires some incredible talent. For example, Soros once said that every time he feels a back pain in a big deal, he will leave, and a good man with a good waist can only look up.
On May 12, 1997, A-shares launched a round of bull market, and the first time the retailers entered the market as a whole, the amaranth era officially opened.
Xu Xiang used a daily limit to test the knife.By the end of 1997, Xu Xiang had 3 million funds. After five years of hard work, the 26-year-old Xu Xiang's assets have already exceeded 100 million yuan, and the daily limit has been very skillful.
The reputation of the "Breakfast Death Squad" has been uploaded in the rivers and lakes, becoming the classic representative of Jiangsu and Zhejiang short-term. Galaxy Securities Jiefang South Road and Tianyi Securities Jiefang South Road often appear in the dragon and tiger list of individual stocks, becoming an atypical phenomenon in the capital market.
On February 15, 2003, a reporter who had a relationship with Jiefang South Road published a "Room Stop Death Squad" on the front page of China Securities Journal after several days of interviews. The "Ningbo Death Squad" became synonymous with short-term stocks. .
  3
After the media reports, the death squad became famous and Xu Xiang became the aura of the short-term trading market.
The report mentioned that these people use tens of millions of yuan every day to quickly catch up with the concept of daily limit in the bear market and leave the market in the next few days.
Those insiders have done a bowl of Pu'er memories:How many tens of millions did he stop at that time?
The myth of the Ningbo death squad reached its peak around 2005. Some retail investors even rushed to the business department to specifically wait for the emergence of these legendary amnesties. After a loss of millions of yuan, a retail investor in the north took the only remaining funds to Ningbo South Jiefang Road, trying to find the magical technique of turning stone into gold.
A trader once analyzed that the essence of the theory of daily limit trading is not to go high, but how to quickly adjust their own judgments, and can lose money to leave the market.
"Only when you can't afford it, can you win back." This cross is a cross, but the words are bloody and tearful.
Many friends who are close to Xu Xiang admire his boldness and boldness.Xu Xiang saw that the situation was not right in the morning and could immediately close the position. Perhaps everyone is still lamenting the annoyance. He has once again seized the opportunity to enter the game.
In China, the capital market is a high-end cherished variety. An old trader of a securities company once screamed at the list of capital capitals. Those familiar names, one-third of the capital, went to jail, and one-third of the people did not know how to go. Another third holds a few "small targets" struggling between bears and cattle.
Being able to win a bull and bear once does not mean that you can beat the second time.There is no end to the game in the secondary market. Sometimes it is an invisible hand. Sometimes it is a visible hand. If it fails, it may return the asset to zero.
  4
In 2004, Xu Xiang's amount of funds has reached hundreds of millions, and it is inevitable that the position will be divided.Xu Xiang and his friends quietly went to Shanghai, and Guotai Junan Jiangsu Road Sales Department has since become Xu Xiang's main battlefield.
In 2009, Xu Xiang decided to set up a private equity fund in Zexi with his own capital reaching about 10 billion. After hearing the news of his establishment of private placement, many of his friends felt terrified, and many people advised him not to continue to grow bigger.
No background, no diploma, no good business relationship, how to stand on the beach?
  Xu Xiang issued the first phase of the 2 billion yuan Zexi private equity products, the mother subscribed for the vast majority of Zexi products, became his LP, and others were subscribed by friends around him.
Between September 2009 and December 2012, the market fell from 3,478 to 1949. During this period of bear market, Ze Xi became a private star with amazing classic operation.
In December 2011, Chongqing Beer was deeply affected by the vaccine scandal, causing the stock price to turn down from around 80 yuan/share. On December 21, when it fell to the 10th limit, the daily limit was opened. Guotai Junan Headquarters and Dapu Road Sales Department appeared in the announcement of the evening. Chongqing Beer's share price continued to fall, from 26 yuan / share all the way down to the lowest point of more than 17 yuan / share, to February 23 back to 34 yuan / share.
Xu Xiang has repeatedly recalled the operation of Chongqing Beer to his friends.He regards Chongqing beer as a lottery ticket. The bad news will make his stock price excessively frustrated, but Chongqing Beer is a stock with performance, so it definitely has a certain value.
So where is the low point?
When the first dip was found to continue the limit, he left the market. The first lottery ticket was not touched. When it fell to 17 yuan/share for the second time, Zexi gradually went to the bottom, and this time he touched the lottery.
The operation of the entire Chongqing beer lasted for two months. When the outside world was guessing the number of losses that Zexi was smashed, Zexi earned hundreds of millions of profits and left at around 30 yuan/share.
Xu Xiang finally boils down to his luck.After leaving the game for the first time, he also sat on the sofa all night thinking: Do you still want to buy this lottery?
  5
The next person recalled that Xu Xiang, who became a market star, has always maintained the habits of ordinary people.Wealth seems to be only a figure in him. Except for the stocks on the 4th floor of the sales department, Xu Xiang has almost no personal life.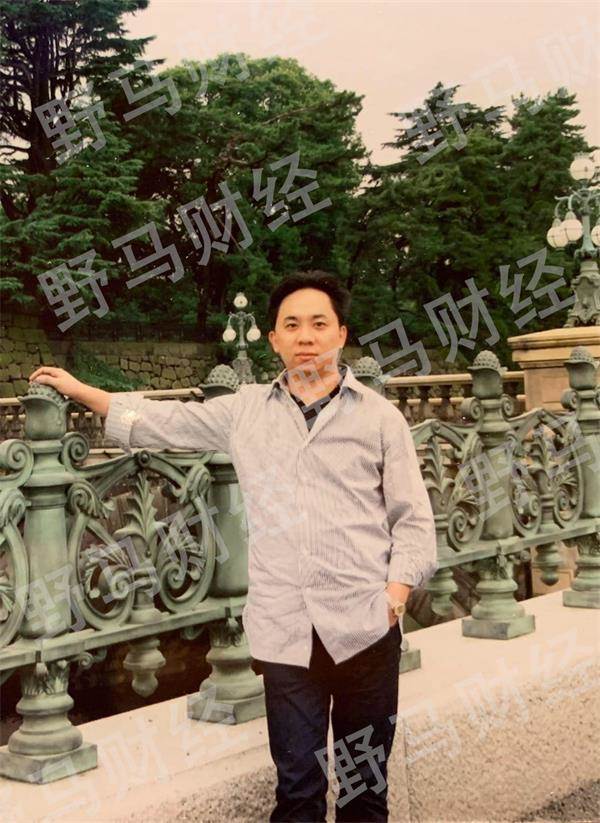 This is the second photo of Xu Xiang's outflow so far.
After Xu Xiang's case, many of his friends reunited Xu Xiang's personal hobbies and agreed that he lacked the taste of life. He doesn't know wine or tea.
When there were 3 million funds, Xu Xiang was proud to reward his two sets of thousands of Youngor suits. A few years later, he recalled the plot when he met Li Rucheng, chairman of Youngor.
  When he was over 100 million, he bought the first common commercial house in Ningbo. When he was billions of people in 2006, he bought the first car, the latest Audi A8.
There is a holiday, friends go to the Macau casino to relax, everyone loses a million, Xu Xiang holds 50,000 chips in his hand. After playing in the hall for three days, he can still buy a Hermès jacket for the rest of the money.
However, in more than two decades of transactions, he has gained huge wealth and gained a sense of fun and accomplishment. The final transaction is fully integrated into part of his life.
Xu Xiang's friends passed by statistics.From 1992 to 2015, only one day was not in front of the trading screen. Half of the day was a disease that could not be seen in the early years. There were still half a day that the relatives must be accompanied by the important surgery.
Statistics Xu Xiang's trading diary,In terms of annual profit and loss statistics, Xu Xiang only has a record of 10% loss in two years, and can maintain a higher profit than the market average at other times. During the bull market, it is often more than ten times the profit in a year.
In 2015, A shares entered the frenzied leveraged bull, and Xu Xiang advised his friends to leave as early as possible. After February, Zexi Fund has basically been short-selling, Xu Xiang keeps the light warehouse ultra-short-line operation, but the madness of the entire market has made him confused and anxious. After 3 pm on the trading day, his mobile phone was a one-on-one phone call. Some people asked him why he was short-selling. Some people hoped that he would open a position.
The leveraged warehouse burst and the stock market crash suddenly came. Many fund friends called to ask him what to do. He used to say with anxiety: How does this end?
The market fell to 4,000 points and the rescue began. Many friends hope that he can buy a little to express confidence in the Chinese stock market. "Just buy a little bit of a statement, even if you only buy a few hundred million."He is still very anxious: "This can't save."
The market broke 3,000 points, and the retail investors were desperate.Xu Xiang took the tens of billions of funds to enter the market.Complete the warehouse within one day.It was also at that time that a big friend once said with tears: I really can't move.
Many years later, a fund manager in Shanghai still lamented:There are a lot of people who dare to copy the bottom, only Xu Xiang who dares to copy the bottom.
  6
To sum up his own trading, Xu Xiang believes that there must be a reserve team first. Xu Xiang regards the transaction as a military war, and the opponent is a mysterious marketer.He praised Lin Biao's military thinking in the Liao Campaign. Lin Biao held a fried soybean in his hand. After the troops were arranged, the "main reserve team did not move" was a sound.
Xu Xiang's assistant Ye Zhan wrote an article by Ze Xi Fund after leaving his post, which introduced some ideas of Xu Xiang. It is said that Xu Xiang recognized most of this article.
Since 2013, the funds that Xu Xiang has mastered can no longer be accommodated in the secondary market. The short-term funds can reach more than one billion. It is already the ceiling. Like other private equity funds, Zexi Fund is the most valuable. investment.
  After personal assets reached 10 billion, he gradually transformed from secondary market stock trading to asset trading, which gradually approached his dream.
Since his youth, he has worshipped Buffett and Soros.
He continued to buy Daheng Technology and Ningbo Zhongbai. At least from now on, comparing the entire market asset price and the market index, Xu Xiang's two transactions are very valuable and insightful.
From Ningbo to Shanghai, Xu Xiang was not confused until the year when he was looking for a wealthy teenager. He is obsessed with Buffett's Berkshire Hathaway shareholding model and believes that this is the best way to operate a quality listed company from the perfect integration of capital and industry.
When he heard that the Ningbo Zhongbai equity in his hometown was auctioned, he judged with professional acumen, he did not hesitate to let his men take a check and proceed to the Heilongjiang Higher People's Court to buy the company's equity.
  He had a vision for his subordinates. He made Ningbo Zhongbai a Chinese Berkshire Hathaway, and he had to go through a move with a foreigner. He has been doing this dream for more than 20 years.
During the 2015 stock market crash, Xu Xiang, an empty warehouse, chatted with friends about the stock market. He believes that the government is right to save the market, but such a bailout plan is too costly. If you buy the chips blindly, you can't afford the Chinese stock market.
Combining the characteristics of the Chinese stock market, he believes that there is no need to directly rescue the secondary market. As long as the government sets up a large fund to rescue the major shareholders of high-quality listed companies and solve the liquidity of major shareholders, it can solve the crisis and do more with less. Bottom rebound.
He used Soros' reflexive theory to explain the wave of plunge,Finally, I was very emotional to say that few people in China know the theory of reflexivity. I can only count half.
  7  
After Xu Xiang's case, the outside world had a clear understanding of his assets. The complexity of these assets also caused headaches for professionals.
  In the Xu Xiang case, Xu Xiang and his family members had a total of more than 25 billion assets, including the assets of both Xu Xiang and Ying Ying, as well as the assets of Xu Xiang's mother and father.From the nature of the assets, in addition to cash, there are shares held by family members and private equity funds Ze Xi, as well as listed companies held by Xu Xiang's mother and father.
Judging from the judgment, at least it was inferred that at least Xu Xiang had assets of more than 10 billion before engaging in illegal activities in 2013.
Some friends once gave Xu Xiang an account management wealth management. After the incident, all of them were seized. Xu Xiang, who is still serving his sentence, is very guilty. He is apologetic.
  His wife Ying Ying went to the Qingdao Intermediate People's Court several times to ask for assets, but the progress was slow. Now that Xu Xiang is over half of his sentence, whether the assets can be handled fairly and quickly is also the ardent hope of the family.
After the incident, friends around me discovered that Xu Xiang did not have any asset layout and cash retention overseas, and all of his family were ups and downs in A shares.
  Born in the grass, loyalty, a page of wind and clouds.
(The article information comes from Xu Xiang's relatives, friends, securities industry practitioners and private investors, thank you all)
(Article source: Wild Horse Finance)
                Tip: All information, comments, etc. published by users in the community represent only personal opinions, and have nothing to do with the position of this website, and do not constitute any investment advice for you. Users should make their own decisions on securities investment and bear the corresponding risks based on their own independent judgment.
"Review of Self-discipline Management Commitment"