Published on 2018-11-02 17:00:29 Share it web version
                                    The oil price is approaching the biggest drop in four years. Fill a box of provinces with 14.5 yuan!
Source: CCTV Financial Author: Wu Yang extraordinary Editor: dongfangcaifuwang
According to the National Development and Reform Commission, the new round of refined oil price adjustment window will open at 24:00 today (November 2). According to the price monitoring center of the National Development and Reform Commission, during the current round of refined oil price adjustment period (October 19-November 1), the international oil price fluctuated sharply. As a result, the domestic gasoline and diesel retail prices have ushered in since December 2014. The largest single drop.
CCTV financial reporters learned from the National Development and Reform Commission that gasoline is lowered by 375 yuan per ton and diesel is lowered by 365 yuan per ton.
The specific situation of this oil price adjustment is as follows: on average,
92# gasoline is lowered by 0.29 yuan per liter;
95% gasoline is lowered by 0.31 yuan per liter;
No. 0 diesel is lowered by 0.31 yuan per liter.
CCTV financial reporters have calculated an account for you, according to the general household car fuel tank 50L capacity estimate, topping a box of 92 gasoline will save about 14.5 yuan.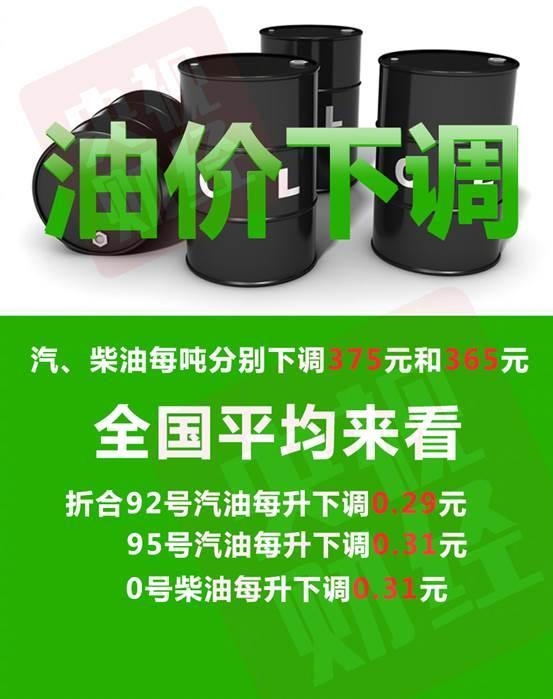 Multi-factors to promote international oil pricesDrastically falling back
Due to the unexpected increase in US crude oil inventories, global demand for crude oil is expected to decline, supply in major oil producing countries will rise, and Saudi Arabia said it will continue to increase production in the future, and international oil prices have fallen sharply from high levels. At present, Brent oil prices in London and New York have dropped to US$73 and US$64 per barrel, respectively, which is about US$13 lower than the four-year high in early October.
The National Development and Reform Commission Price Monitoring Center predicts that the short-term US sanctions against Iran and the geopolitical situation in the Middle East are the main factors affecting international oil prices. The US sanctions against Iraq have affected the decline in Iranian exports, which is the focus of the market. On November 6, the United States will usher in the mid-term elections. Recently, the incident of the Saudi journalist's murder has disrupted the situation in the entire Middle East to a certain extent. The relationship between the United States and Saudi Arabia has become tense. Considering that OPEC crude oil supply adjustment has greater flexibility and comprehensive judgment, the international oil price will remain volatile at the current level.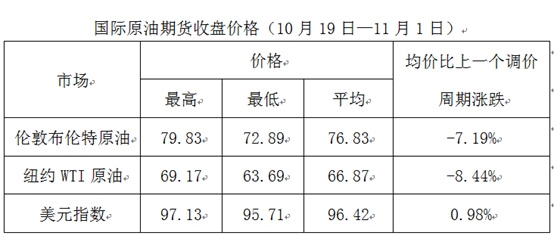 A list of changes in oil prices during the year: 13 up 7 down 1 stranded
After this price adjustment, since 2018, the domestic refined oil price adjustment has shown a pattern of "13 rising, 7 falling, and stranding". As of this price adjustment, the price of gasoline has increased by 1,130 yuan per ton, and the price of diesel has increased by 1,085 yuan per ton.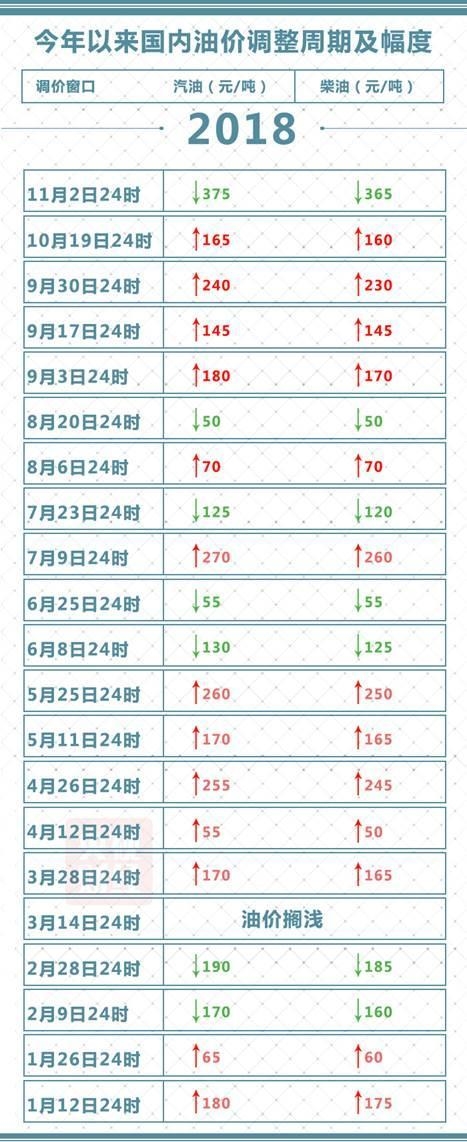 [NDRC article]
  Domestic refined oil prices are lowered by mechanism
According to the recent changes in oil prices in the international market, according to the current formation mechanism of refined oil prices, domestic gasoline and diesel prices (standard products, the same below) decreased by 375 yuan and 365 yuan per ton respectively from 24:00 on November 2, 2018. After adjustment, the highest retail prices of gasoline and diesel in provinces (autonomous regions, municipalities) and central cities are shown in the attached table. The relevant price linkage and subsidy policies are implemented in accordance with current regulations.
PetroChina, Sinopec and CNOOC should organize the production and distribution of refined oil products to ensure a stable supply of the market and strictly implement the national price policy. Relevant departments of various localities should increase market supervision and inspection, strictly investigate and punish non-implementation of national price policies, and maintain normal market order. Consumers can report price violations through the 12358 price regulatory platform.
We are closely tracking the operation of the refined oil price formation mechanism, and further researching and improving the changes in the domestic and international oil market.
Attachment: The highest retail price of gasoline and diesel in all provinces, autonomous regions and municipalities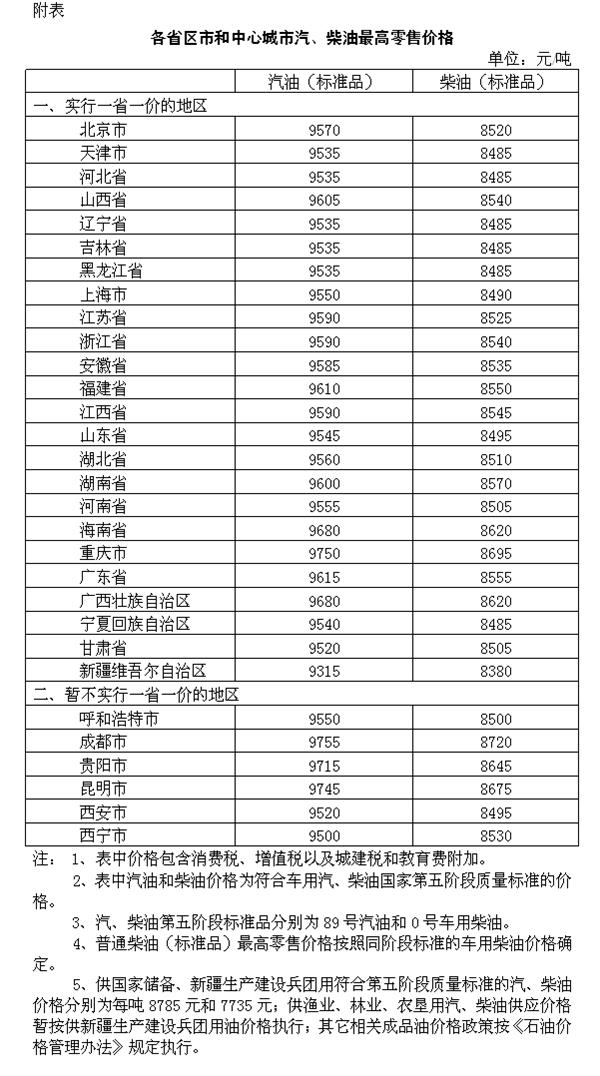 (Article source: CCTV Finance)
            Tip: All information, comments, etc. published by users in the community represent only personal opinions, and have nothing to do with the position of this website, and do not constitute any investment advice for you. Users should make their own decisions on securities investment and bear the corresponding risks based on their own independent judgment.
"Review of Self-discipline Management Commitment"