Posted 2018-04-18 15:51:30 Share it on the web version
                        The board issued a preliminary stabilization signal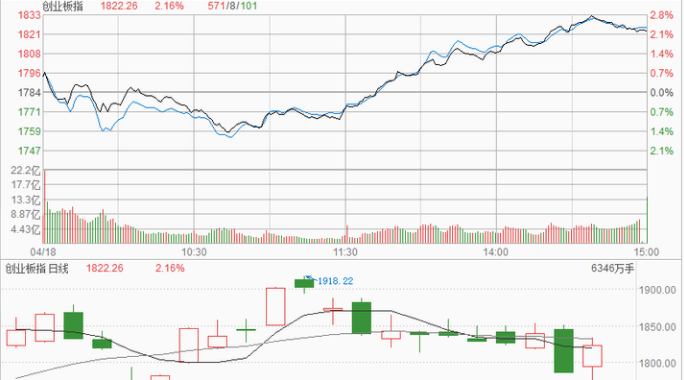 1. The counterattack of the GEM is the strongest, back above the half quintile of yesterday's Yinxian, reluctantly recovering the 5-day moving average, the upper shadow line touches the 20-day moving average, if the intensity is strengthened a little more in the 10 minutes before closing, regain the 20-day moving average, here The long-term signal will be stronger, and overall, today's major indices have given preliminary signs of stabilization. Although the GEM has been poorly fired, the counterattack efforts have also reached the pass line.

2. The chip became the strongest voice in the multi-strength effort, with software, semiconductors, information security, and cloud computing ranking the top gainers. The Hainan plate fell sharply for two consecutive trading days. However, the strong man still maintained a dual technical nature. The evolution of the Hainan plate on Thursday was more important, and then there will be a broken character in the downward direction. If there is a strong counterattack, it will be fast. Repair technical aspects. The agricultural sector has performed weakly. The agricultural counterattack of the US trade war seems to be awkward. The market responsiveness is not high. The strong ones in the agricultural sector also maintain the technical possibility. They have not completely taken away the bad, but also whether or not they can form on Thursday. Strong counterattack.

3. Today's four major indices have recovered from low valuations, leaving long shadows and signalling a turnaround. This type of K-line itself is a forward-looking signal. The trend of the next day is even more important. With the exception of the GEM, the other indices are all closing. Under the 5-day moving average, if you want to change the technical characteristics of the short-term unfavorable, you also need to counterattack Dayang to bring a strong turn signal, and now we can only take a step forward.

                Tip: All the information, speeches, etc. posted by the user in the community only represent personal opinions and have nothing to do with the position of this website. It does not constitute any investment advice for you. Users should make their own decisions on securities investment and take corresponding risks based on their own independent judgment.
Self-discipline Management Commitment for Follow-up Comments