Published on 2019-01-11 17:07:39 Share it web version
                                    note! A new main line has surfaced, and these stocks are focused!
Today's market hotspots are scattered. In fact, in essence, it is now mainly at a stage of risk appetite.
Take the recent hottest 5G, because there is still time from the actual substantive orders, so the initial hype is the casualty of the hot money. The target they choose is generally the market value, then the stock price. Low, such asDongfangtongletterWhen starting up, it costs more than 4 yuan, but as time approaches, as the order is about to land, you will find that those who are already super high may not get any orders, so they will start the return journey!
And some other monsters likeXinjiang Jiaojian,Wind FanIt is also a hype of risk appetite. When the demon stocks are high, the heights are not overwhelming, but the hunger and thirsty funds are obviously still unfinished. The best way is to dig a main line again because the one is full. The plates that are profitable and ready to run are very resistant, while the ones that are in the low position and have relatively clean chips are obviously less resistant.
Today, a new main line has emerged - hydrogen fuel cell! There are 6 stocks in the sector, and the trend has also risen.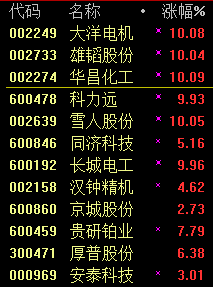 What are the common characteristics of hydrogen fuel cells compared to 5G? Both can be said to representNew economy, science and technology innovation and other directions, and in the short term are concept hype, for the time being can not see the substantive performance, since there are no shadows, so the logic is the same, but also hype risk appetite, the funds for speculation will be no different.
Although the hydrogen fuel cell doesn't have much shadow, it still has a little bit of something to see. I will give you a brief explanation:
The reason why hydrogen fuel cells can be fired is obviously that there is no wind and no waves. The necessary catalytic policies and events are still dripping. Domestically:
In January 2018, Zhangjiakou launched 74 hydrogen fuel cell bus purchases, and Futian Ouhui and Yutong respectively had 49 and 25 vehicles, which is an important symbol of the commercialization of hydrogen fuel cell vehicles.
In 2018, the National Development and Reform Commission and other four ministries and commissions issuednew energyIn the article "Notice on the Promotion of Financial Subsidy Policies for Automobiles", it is proposed that the subsidies for fuel cell vehicles remain unchanged.
On December 15, Wan Gang, chairman of the Association for Science and Technology and former Minister of Science and Technology, issued a paper in the People's Daily to support fuel cells.
To give you a simple science, the fuel cell is a non-fuel process electrochemical energy conversion device that continuously converts the chemical energy of hydrogen (such as fuel, current technology path mainly hydrogen) and oxygen into electrical energy.
Internationally, the world's leading fuel cell leader is the two companies, Ballard and Plage. Coincidentally, these two US stocks have not seen much growth recently. Among them, Prager Energy's recent rebound has risen by more than 70%. The Lad power system has recently increased by more than 40%.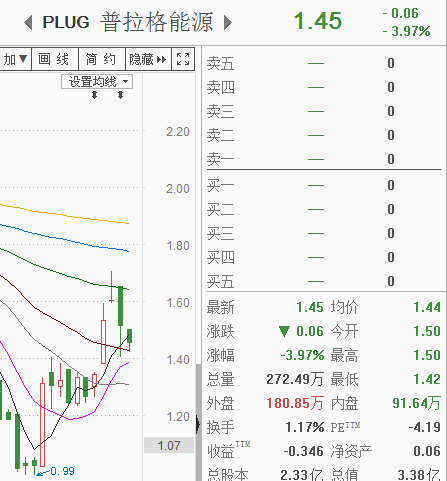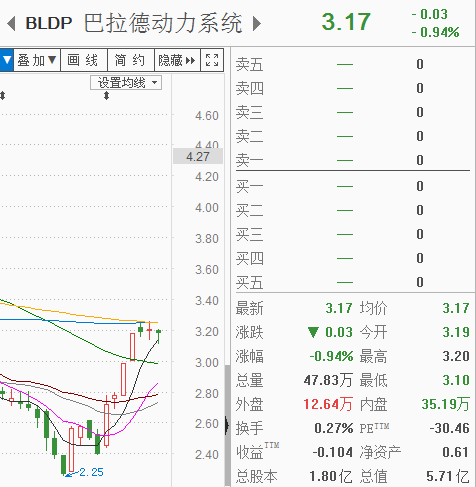 US stocks can usually map A-shares, especially the technology stocks sector, this time also plays a role.
From the perspective of the industrial chain, hydrogen fuel cells are mainly divided into three areas: upstream materials, midstream assembly, and downstream applications.
Upstream materials: hydrogen supply and battery assembly production, including hydrogen production and transportation, battery bipolar plates, catalysts, proton exchange membranes, gas diffusion layers, seals, etc.;
Midstream assembly: mainly the assembly of fuel cell systems;
Downstream applications: Manufacturers of fixed power generation, transportation equipment and portable fuel cells.
If you are still too tall, look at the clouds, it doesn't matter, then take a look at the structure of the industry chain below: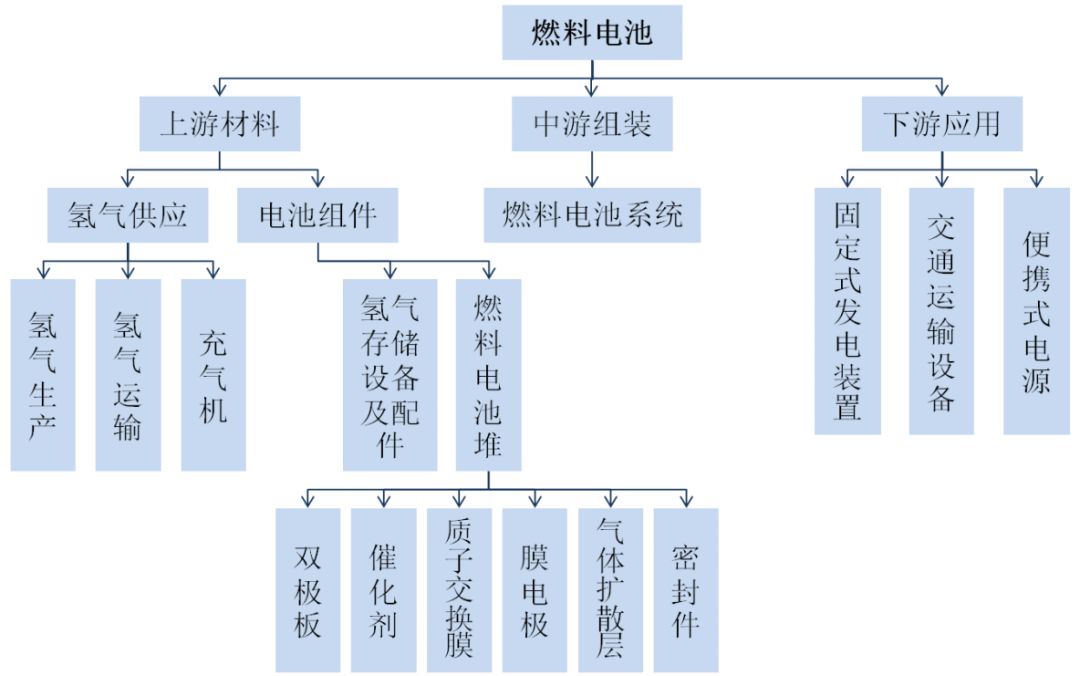 So how is China's current development in the field of hydrogen fuel cells? What companies are there?
Upstream field: China's fuel cell core raw materials are still in the early stage of transition from laboratory to industrialization, the technology level is relatively backward, lack of self-production capacity, and rely heavily on the import of foreign company Ballard, Hydrogenics and other company reactors for assembly;
Midstream: Domestic enterprises are mostly deployed in the field of midstream system integration, and some enterprises also extend to upstream materials;
Downstream: Domestically, it is mainly the mainstream car companies to reserve and layout.
The companies in the hydrogen fuel cell industry chain are sorted out as follows: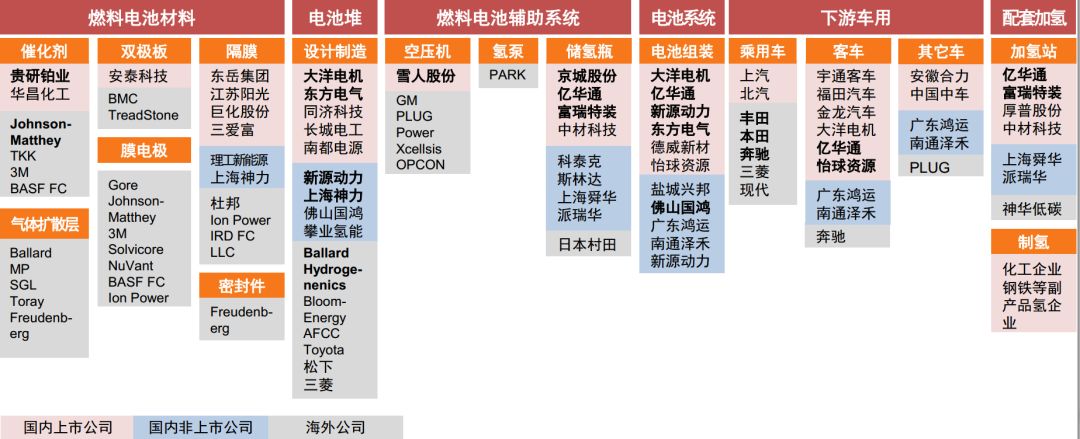 Below, we should focus on the key stocks of hydrogen energy batteries as follows:
1,Ocean motor: Participate in Ballard and play with the faucet
In 2016, the company acquired a 9.9% stake in Ballard Power Systems and became the company's largest single shareholder. In 2018, it signed a 6.5 million euro investment agreement with HT, the global leader in hydrogen storage and transportation technology, to lay out the hydrogen energy equipment market. The company continues to consolidate the company's hydrogen fuel cell vehicle industry layout, which will form a good foundation for benefiting from the gradual increase in fuel cell vehicles.
November 1, 2018,Ocean motorIn the interactive platform, at present, the company's hydrogen fuel cell business has initially completed the layout and achieved the project. The cooperative vehicles include Zhongtong, Dongfeng Special Auto, Foshan Feichi, Futian, SAIC Datong, Nanjing Jinlong, Shenlong, etc. The direction is passenger cars and logistics vehicles.
2,Snowman shares: Globally competitive
Snowman sharesThe hydrogen fuel cell air circulation system is globally competitive. Fuel cell systems have been supplied to many car manufacturers such as Ballard of Canada and DaimlerChrysler, Mercedes-Benz, GM, Volvo, Toyota, and Honda.
At present, the air circulation system developed by the company for hydrogen fuel cells has been supplied with prototypes according to customer's customized requirements, and has signed air compressor sales orders with related hydrogen fuel cell engine companies.
3,Xiongyi shares: The whole industry chain layout, great ambition
Invested in Beijing Hydrogen Energy, and plans to invest 5 billion yuan in the construction of hydrogen fuel cell industrial park in Wuhan. The company recently revealed on the interactive platform that Wuhan Hannan Hydrogen Station is under construction and is currently basically completed. It is the first fixed hydrogen refueling station in Hubei Province and is expected to become one of the largest hydrogen refueling stations in the country after completion. The first hydrogen refueling station in Datong has started construction and is expected to start operations in January 2019.
4,Furett: Subsidiary has layout
FurettFurui Hydrogen Equipment Co., Ltd., a holding subsidiary of the company, mainly produces on-board high-pressure hydrogen supply systems and hydrogen refueling stations for hydrogen fuel cell vehicles.
Mainly related materials and hydrogen storage tanks
6,Guizhou Institute of Platinum
Mainly platinum catalyst coating materials will cause demand for platinum, and currently the global platinum production capacity is limited.Guizhou Institute of PlatinumIt is the scarcity of platinum resources in China.
Other targets can be concernedGreat Wall Electrician,Hanzhong SeikiWait.
Of course, the individual thinks that the most authentic isXiongyi shareswithOcean motorTwo tickets!
(Source: Welfare number of shareholder z9lMga 2019-01-11 16:59)[Click to view original]
            Tip: All information, comments, etc. published by users in the community represent only personal opinions, and are not related to the position of this website, and do not constitute any investment advice for you. Users should make their own decisions on securities investment and bear the corresponding risks based on their own independent judgment.
"Review of Self-discipline Management Commitment"