Oriental Fortune HD - financial information & stock account transactions
Developer: Oriental Fortune Information Co., Ltd.
This App is only available through the App Store on iOS devices.
      Content summary
Oriental Fortune Network HD is the first Chinese financial portal - Fortune Network (300059), tailored for the iPad a free stock software.

Based on the powerful platform resources of Fortune East, it fully integrates the global financial information; exposes the main capital flow in real time; digs the financial data of the company in depth and reports the research report on individual stocks in depth.

Do not force the stock market, Tucao it shares; popular stock exchange community
- Share it is your share of stock market experience in the community.

Join now! The next speculation is you!

basic skills:
● iPad, mobile phone, PC, web-stock all-in-one synchronization, an account of the four platforms, easy management of self-selected shares
● 3 minutes speed online account, a wholly owned subsidiary of Orient Fortune Securities online transactions, safe, convenient and fast
● Collection of authoritative research reports to help you hoard premature blue-chip performance
● global financial market information, updated 24 hours a day
● Fortune China to create the network of the most popular stock market in China, real-time quotes and stock exchange allows you to feel the power of the securities economy
● Perfect fit HD Retina screen, iOS 10 system, horizontal screen operation more convenient

Contact information
Company website: http://westdollar.com
Official Weibo: http://weibo.com/dongfangcaifutong
Service Hotline: 021-24099099
      New Features in Version 6.9
------------- Explosive new features this issue -----------------
- Self-selection group custom grouping: quick to sort out the sort of self-stock it
- Account Analysis: Your personal wealth manager
- Fund Handicap: a real show of long and short market forces
- Hot spot: real-time capture hot spots, mining short-term breach varieties
- Stock history time-frequency inquiries: the history of time-sharing, panoramic reproduction
- Select shares multiple columns in the same column: read disk efficiency increased more than 100%
A stock shortcut trading model: classic, trading mode a key switch
- A new version of stock information: more data graphical display, company information is exhaustive
- Horizontal screen chip distribution: the main cost at a glance
- Stock Note: Your portable investment sticky note
- Time-sharing: stocks share the most direct display of strength
- Time-sharing dual-image comparison: and the traditional single-share mode to say goodbye
- Q & A platform: the strongest brain for you to make investment decisions
- Virtual volume: early insight into the volume of the day can take the initiative
- You can set the parameters of the indicators: You create the personal indicators
- Can display double sub-indicators: Multi-dimensional comparison of different indicators
- Gap display: quickly check your stocks have not missed the gap
--------------- More optimized content ---------------------
Long cycle shows the closing price line, the automatic selection of automatic switching table horizontal screen, unique time-sharing trading model, the time-sharing display index, the main index can be switched, buying and selling orders and transaction optimization, the time-sharing view of the area increased by 30% Item updates wait for you to experience.
iPad screenshot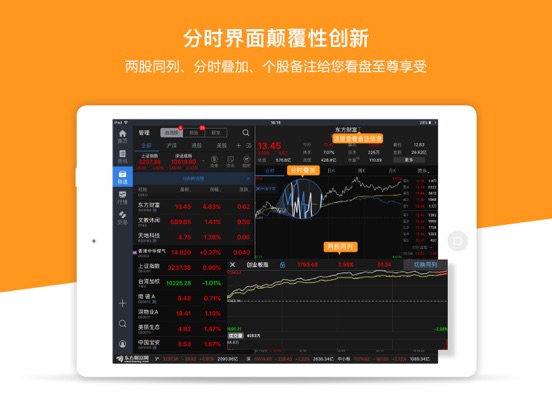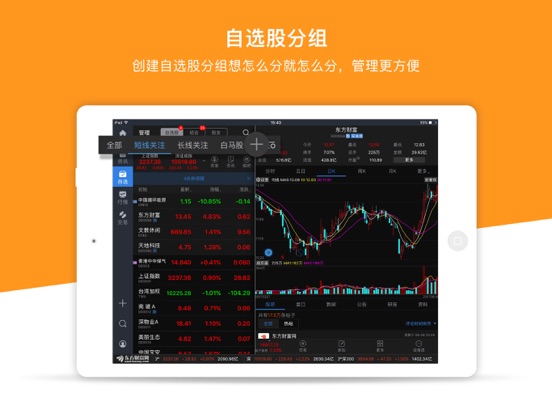 user comment
pad version of the East Fortune really easy to use ah
    I own a new investor, the first contact with the stock trading software is the wealth of the East, is recommended by my colleagues, and I feel the popularity is still quite high ah. Feel down with all the features are very comprehensive, rich information, market updates faster, shares it shares more friends and are very friendly, will teach some stocks knowledge, really good, like this one.
This update is very good
    The overall function of the interface operation also optimizes a lot of good Hope that you continue to work hard
Grandparents ... The new version is a disaster
    Grandpa and grandpa ... ipad new version for me - a 15-year-old old shareholders - is simply a disaster - I kowtow to you ... beg you - to restore the original interface - the original interface is simple and clear ... I recommend A lot of friends around to use ... they also respond well ... but ... your current version of the complexity of the simple things
View in iTunes
FREE

Category:

Finance

Updated:

September 11, 2017

Version:

6.9

Size:

116 MB

Language:

English

Developer:

East Money Information Co., Ltd.
Compatibility:Requires iOS 8.0 or later. Compatible with iPad.
      Top In-App Purchases
Spray pack, contains 180 waves¥ 6.00
Spray pack contains 900 sprays¥ 30.00
Spray package contains 360 waves¥ 12.00
Spray pack, contains 1800 waves¥ 60.00
Spray pack contains 3240 waves¥ 108.00
      More iPad Apps by Dongfang Wealth Information Co., Ltd